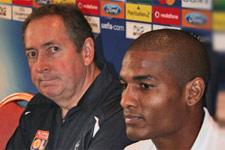 Lyon's Gérard Houllier and Florent Malouda were the first to hold a press conference at the Sofitel Hotel, their home during their Romanian sejour...
Florent Malouda

Are OL diving into the unknown in Romania?
It's true that Lyon has been playing a lot of Champions League football in recent seasons and we're coming here to get points and, if we can, win. We have two away matches in a row and we want to continue are good start to the season with each following match. There's no special pressure here. In Ligue 1, everyone thinks we're already champions which isn't the case. In the Champions League, the first goal is to qualify.

The goals you have been conceding recently?
Are ai mis to always keep improving and correcting our mistakes. But considering our attacking force, it isn't too serious for the moment.

Steaua?
We're not surprised by their victory over Kiev, even if it did raise a few eyebrows. We're certainly wary of Steaua. I don't think about the final standings or the prestige of other clubs in this competition. Qualification is won on the field.

How do you explain your current good form?
It's the result of the work I've done. The World Cup wasn't the end of the road. I hope I'll keep improving. I want to win more than I want to score. A loss?We don't prepare our matches to lose them.


---
Gérard Houllier

[IMG40629#R] Are the goals you've been conceding merely anecdotal?
It proves that OL isn't just a machine. We have parts of our game that we need to improve. In my match preparation, I'm not obsessed with this because we take a lot of risks to win every game. I actually think it's quite encouraging for the future.

Is this match similar to the one against Rosenborg last season?
Not at all. The opponent is much stronger. I was impressed by the victory over Kiev. It was a sculpted victory. Steaua is a good team. We are aware of their strengths and they don't have many weaknesses. They are a solid team that presses very well. To play in Romania? It's always difficult. Like all teams, there's a bigger motivation than in the normal league. That's normal. This Steaua is different to the one I met with Liverpool but I don't draw on the past. We have a lot of respect for this team. But we also have a great desire to have a great game. Both teams can win and both teams most certainly believe that.

How would you describe this match?
It could prove to be decisive. That's for you to decide…

Are OL untouchable?
We don't think like that. We don't win matches or medals with our reputation. We win because each time we play we strive for excellence and try and minimise our errors. You can never take anything for granted. It's hard to stay at the top and I'm proud of what the players have achieved since the start of the season and also what they've achieved since being crowned champions last April. It's very hard to produce such consistency.

Are there three favourites for qualification in this group?
I wouldn't write of Kiev too quickly. I can't say who will qualify at present.

Is it harder to prepare a trip to Steaua than it is to host Real?
No. The players know the values of the opposition. They know i twill be tough and they know that qualifying depends on the away results.