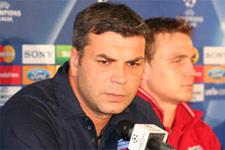 After a quick hour's bus ride, the French journalists arrived at a marquee in the Ghencea Stadium car park for Steaua's press conference with their coach and two players…
Cosmin Olaroiu (coach)
This match is the most difficult and the most important of the group. OL are very well organised, very experiencd and stable. The team represents the perfect balance between individual quality and teamwork. We've prepared well and we're in form. We'll do our best and rely on a great determination and the support of our public. Honestly, we have our chance. Last season I was a fan of OL and I didn't think I'd one day be playing thel in the Champions League. Juninho's free-kicks? There's only one solution: don't give away any free-kicks. Are Steaua favourites with OL for the qualification? That's their president Jean-Michel Aulas just being polite. Will we be happy with a draw? We will also be playing to win and even if OL are very strong, there isn't a single team that doesn't have a weakness at some point over 90 minutes…

Sorin Ghionea (defender)
OL are above all a great team, but I know that Wiltord, Malouda, Govou are all capable of changing a match at the drop of a hat. OL are used to the Champions League. They've been dominating their domestic league for five years and they've started very well this season. But we mustn't overlook Real and Kiev. We will try and show what we're worth, just as we did against Dinamo.

Cyril Théréau (attacker)
I've seen how OL have evolved over recent seasons. They are a great team that don't leave anything to chance, but we also have some quality and we can challenge OL, especially at home in front of our fans. We can do something, as long as we're at 100%. We want to follow in their footsteps in Europe and we can't wait to play. We've prepared well, just as we did befre the Kiev game. Romanian football? It's a lot like French football, even if there aren't many teams that can fight for the title. As for my personal story, we can say that I'm improving, having gone from the second division (Angers) to the Belgian first division (Charleroi) and then to Romania and now the Champions League.