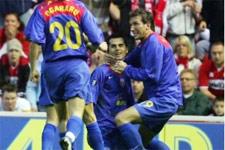 Steaua Bucharest, the old armed forces club, have a superb record, crowned by winning the European Cup in 1986… Tuesday's referee will be Mr Howard Webb...
23 titles as champion including six in a row (1993-98). The club won last year's crown with five points to spare over Rapid Bucharest, a domestic competition that grew from 16 to 18 cubs this season. 20 Cup wins. 8 league/Cup doubles (the last in 1997). They won the European Cup in 1986 and the European Super Cup that same year… this club, created in 1947 is Romania's most prestigious. They have been coached by Cosmin Olaroiu since the start of 2006. He trained them once before in 2002. He was a player for FC National Bucharest and Craiova University. He is 37-years-old.

The Steaua Stadium has a 28,000 capacity, all-seater. There are very few foreigners in this team. Carlos Alberto Fernandes is Portuguese; Cyril Thereau, French; Klemi Saban, Israeli. Apart from these three foreigners, no other player in the squad has played in a fiireign league. The squad boasts 13 internationals, including Alberto Fernandes with the Congo and Klemi Saban with Israel. Paraschiv and Marin are their most experienced European campaigners with 38 games a piece. Dica and Iacob have both scored 11 goals. It is a young team with just two 30-somethings in reserve 'keeper Cernea and the defender Marin.

Cosmin Olariu's side are currently second in the Romanian league after nine games. They are seven points behind Dinamo Bucarest.

The referee for the match will be the Englishman Mr Howard Webb, 34-years-old. He has been a UEFA referee for a year and has 15 European matches under his belt. Tuesday evening will be his first Champions League match. He refereed OM versus Dnipro Dnipropetrovsk in the Intertoto Cup last July 22.