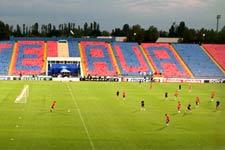 Late on Monday afternoon, OL went through their paces on the pitch at the Ghencea Stadium…
Since December 6, 2005, Steaua have not played at their home ground… renovations prohibited it. The ground's 28,000 seats will be filled this Tuesday. "There's an incredible atmosphere here, it's really like an English stadium. Steaua has fans all over this country." Dimitri is a journalist for Romanian television. Indeed it's almost a new inauguration for the stadium and for Juninho and his teammates.d "The star of the team? That's Radoï, but he's injured. Thérea, the Frenchman? I think he'll start…" Dimitri seems confident as the Olympians run out onto the field. The stadium is decked out in the colours of the country (red, yellow and blue) with just one stand. The club's emblem and that of the Champions League is proudly displayed.

The rest holds no surprise. The players go through their warm-up after a few words from Houllier. The pitch is in good condition. The 'keepers donned their gloves and went to work with Jöel Bats while Florent Malouda and his mates stretched their legs under the direction of Robert Duverne. Finally a practice match on a small pitch, with and wthout restrictions, before ending the session with some stretching for some and shooting for others. And all this underthe gaze of some Steaua players! Before heading for the changing-room, Juninho signed a multitude of autographs while Abidal and Squillaci chatted with Steaua's Italian physical trainer who used to work at Monaco.

OL is ready for its 56th Champion League match . The Wind picks up in Bucharest and brings with it some clouds and a cool change. Time to hit the showers and massages in the expert care of Patrick Perret and Abdel Redissi.