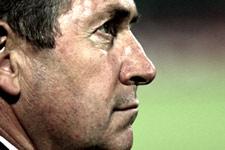 Eighteen players have been called up by Gérard Houllier to face Lille. Cacapa and Carew are still out injured, Tiago, suffering from flu is also unavailable while Ben Arfa will play with the reserves against Saint-Etienne…
The Squad:
Coupet, Vercoutre – Diarra, Réveillère, Cris, Abidal, Clerc, Berthod, Malouda, Fred, Toulalan, Juninho, Benzema, Källström, Müller, Govou, Squillaci, Wiltord.

Gérard Houllier:

At the end of a quality training session behind closed, Gérard Houllier had an extended session with the gathered media. First of all he indicated that Cacapa would start running next week, something which John Carew has already begun.

Gérard, are Lille the 'bête noire' of OL?
I don't generally believe in that type of thing. Last season we suffered two defeats in rather special circumstances. The first, certain players were already on holidays and the team was exhausted after a good start to the season. The second game we were obliged to run an extra 20 minutes even though we'd already won the marathon. But that's not to take anything away from Lille's performances. We need to remember the spanking we got in that return match…

How do you see the match?
I twill be very interesting for them and for us. It's a Champions League game. We have three Champions League matches to play before the next international break. I think it will be an open match, because even if Lille are good at defending, they also have more attacking options than the majority of teams that come to the Stade Gerland. I like what this team does. I like Claude Puel. Are Lille similar to OL? No. The two teams don't share the same structure or philosophy, even though both teams like to attack and defend at speed.

Are Lille your principal title rival an dis the position of Marseille a plus for you?
Lille are a rival just like PSG, OM, Lens, Bordeaux, Nancy, Le Mans… The league is very level and compact. You can't discard any team, overlook any detail… you have to prepare every match in the best possible way. We try and find answers for each adversary in each and every match. OM? They are an excellent foil for OL. They are forcing us to stay at the top of our game. They make us want to be better.

Do you approach the game the same way at home and away?
Yes. But at the Stade Gerland, our opponents pass 60% of their time defending. We have to find solutions and since the start of the season, we also have to rediscover our fluidity. The match against Real Madrid showed we still know how to perform at our best.

A word on your choices for Lille?
You'll see. But I can tell you that Toulalan and Juninho will play. Since the start of the season, the team has been playing well, scoring goals, we're leading the championship. Given the circumstances of the start of the season, I think that says something. I admire what the players have achieved. Your selections? I make them depending on needs and circumstances... the competition for places at this club is honest because we have a quality squad and the lads understand that their own interests pass via the success of the team. I admit that this season it's much easier for me to make those choices and that the competition is even more positive. There is almost no difference between the players, even if I will shout it loud and clear that Juninho is a necessary part of my game plan. All the players have improved. In my changes, I generally try and change one player per line.