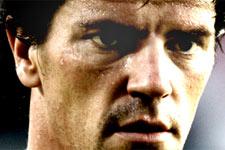 Grégory Coupet talks about this Saturday's game against Lille. While admitting his side has struggled against the northerners in recent times, the OL 'keeper refuses to accept that they suffer from a 'Lille Syndrome' and is confident ahead of another important week...
Greg, are Lille the 'bête noire' of Lyon?
Yes, because we haven't had much success against them recently, but at the same time, we don't have a complex and we're not panicking. We just want to win at home. And we'll kill two birds with one stone by putting a direct title rival nine points behind us.

Why does Lille cause Lyon so much trouble?
They have the same virtues as us. They have a great squad and also the attacking players that can create something out of nothing at the right time. We're not up against great individuals, but a great team.

A win will see you nine points clear of Lille…
That's a big gap. I just hope it won't be a defensive, tight affair. We know we'll be up against a well-organised, solid opponent that will be hard to breakdown.

Do you think there will be more pressure on you or Lille on Saturday?
We have to make sure we apply the pressure on them. Whatever happens, we have to be competitive. We can putt hem nine points behind us, but they can also close to within three of us. It's not yet a season-breaker, but it's very important. We mustn't forget that the season is still very long and there are lots of other points to earn along the way.

Which Lille player are you particularly worried about?
We could mention players such as Bodmer, Keita and Odemwingie. The latter is really a quality player who has real talent in front of goal. It's up to us to keep a close watch on him. But I have a lot of respect for the whole group and in particular Tony Sylva who is always present in matches.


"For us, Lille is a major obstacle"


Gérard Houllier says that a great team never loses twice in a row... Lille lost their last league game...
It's true that if they subscribe to that proverb, then we'll have a lot of difficulty beating them. All the same, OL is also a great team that will be very motivated. We've worked very well this week and have prepared in ideal conditions for this match. I'm sure you'll see a great Olympique Lyonnais this weekend.

[IMG41068#R]How did the week go in which you had seven whole days to prepare for this match?
It allowed us to work on the long term. We were also able to work on our physical power. We mixed up some big tactical attacking sessions with physical work-outs at the start of the week. It was a great way to prepare for Saturday, but also for the next three games.

After Lille, you face Steaua Bucharest. Is it a decisive week for you?
Every week is a decisive week, but it's true that these are two very important matches. But when you're going for the championship, you can't relax for any match. So we've been working with this in mind.

Ahead of the trip to Bucharest, a victory against Lille will be good for the confidence…
Of course. Victories lead to more victories and a win against Lille will set us up for the next game, but it's not as easy as that. We've got two Champions League games back to back and first up are Lille: a major obstacle for us.

Do you think Lyon is stronger than last year?
We're calm and consistent. We don't ask to many questions when we're playing. Even the departure of Djila Diarra was quickly compensated for. Despite the turnover that Mr Houllier imposes, the team is always balanced and efficient. We aren't suffering from doubt, but we also know that any team is a fragile thing, that can fall apart very quickly. I hope that doesn't happen against Lille.

Are you surprised by OM and do you think they are you're number one title rival?
No. I still put Lille ahead of them. They've been matching us for several years now. They have the right recipe. Marseille are certainly a rival, they are in great form and the arrival of Djibril Cissé will make them even stronger.

There is already a five point gap back to third place. Does that mean there are already two different championships?
I don't know. Marseille are still there at any rate. Lille, even if we put nine points between us, will still be there too. Perhaps the arrival of OM at the top of the table will give the championship the spice that everyone has been looking for. But I've got to be honest and say that's the least of my problems. If we could have a ten point gap I'd take it in a flash.

[IMG41281#L]Djila was replaced on the field, but what about in the changing-room?
Jérémy Toulalan isn't exactly a barrel of laughs yet (laughter). But we've still go tour National Abi (Eric Abidal). In the changing-room, everyone is involved. We have a real family atmosphere and that's important given how often we're on the road together.

Is Toulalan already in the process of replacing Djila on the field?
I find his workload in the ball-winning department really impressive. He is very talented at winning the ball and then making the clean pass. I think sometimes he's perhaps even too generous. He could perhaps have a bit more confidence in the rest of the squad and in our tactical placement. But he's well on the way. It didn't take him long to understand how the team plays. He's an intelligent player.