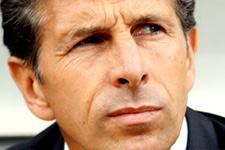 Lille lost last weekend at home to Toulouse. Lyon will be ready for the backlash, because Lille never lose twice in a row last season and became, in the process, Lyon's 'bête noire'…
Finishing second in 2004-05 and third in 2005-06, Lille have become anchored in France's top three. Moussilou, Dernis, Acimovic and Danté all quit the club last summer while the Guinean Youla and the Brazilian Bastos arrived in the Nord.

3 wins (v Rennes 2-1, v Lens 4-0, v Bordeaux 3-0), a draw (v Nantes 1-1) and 2 losses (v Paris 1-0 and Toulouse 3-1). They have ten points – one more than the same period last season. They've scored 11 goals and conceded 6. Odemwingie 5 goals, currently leads the Ligue 1 charts, Bodmer 3, Keita, Tavlaridis, Cabaye 1 goal each. 4 headers; 1 free-kick (Cabaye v Bordeaux); 10 goals scored from inside the penalty box; 4 from crosses and 1 from a corner; 8 goals scored in the first half.
6 goals against including two from outside the penalty box; 1 penalty (Rennes); 1 free-kick (PSG); 2 goals from crosses; 3 in each half.

15 yellow cards including 2 for Bastos, Cabaye, Chalme and Odemwingie. 1 red card for Schmitz.

Claude Puel has used 20 players in the league. Sylva and Tafforeau have played every minute of the six matches so far; Dumont, Keita and Odemwingie have played in all six. Goalkeeper Sylva is injured and will be missing at the Stade Gerland.

Les Dogues qualified for the next round of the Coupe de la Ligue with a 1-0 away win over Istres (own goal). Franquart and Vitakic made their first appearances of the season in a Lille shirt. Lille are also playing in Europe this season. They qualified for the group stages of the Champions League with a comfortable third round qualifying tie against Rabotnicki Skopje (Macedonia) 1-0 (Audel) and 3-0 (o.g., Bastos, Fauvergue). They are in Group H with AC Milan, AEK Athens and Anderlecht. Their opening game in Brussels ended 1-1 (Fauvergue); they host AC Milan next Tuesday. President Michel Seydoux's side has therefore already played 10 official matches this season and has used 25 different players in all.

Lille, OL's bête noire? In their last four meetings Lille have beaten OL four times. Three times at home (3-2 in the Coupe de la Ligue and 2-1 & 4-0 in the league) and once at the Stade Gerland (3-1). The last Olympian win dates back to August 28th 2004 (1-0 goal to Frau). For his part Sidney Govou enjoys playing against Les Nordistes; he has scored four of his 38 league goals against them: 2 in 2001-02, 1 in 2003-04 and 1 in 2005-06. All 4 came at the Stade Gerland.

Cris began his French career against Lille, with a 1-0 win. Lille's Audel and Bodmer both debuted against OL.

The referee for the match will be Monsieur Thierry Auriac (42, from the Midi-Pyrénées). The last time he officiated OL? Last years 4-1 defeat to Rennes...