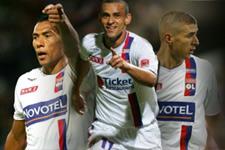 Does OL needs a great striker to step up to the next level? This question has been asked by the media and critics repeatedly over the past few months… Well here are some statistics in response...
There are several ways to judge the quality of an attacker, but the number of goals scored and the number of chances created are essential in any judgement. The Brazilian Fred played 30 matches last season (2,684 minutes). He scored 17 goals from 95 shots (64 shots from inside the penalty area and 31 from outside). 14 goals were scored when he was in the starting line-up. So far this season he has played 352 minutes, effectively four whole matches: four goals from 12 shots (nine on target and three off target); four of the 12 efforts were headers; three shots came from outside the area and nine from inside. In other words, one goal per game... one goal every three chances! three goals scored when in the starting line-up.

Karim Benzema has played 441 minutes, or close to five matches. He has taken 20 shots (seven on target, seven blocked and six off target; 10 from inside the area and 10 from outside) for four goals. In the 2005-06 season he scored four goals from 31 shots.

Finally, John Carew has not scored in 289 minutes of football, or a little over three games and 17 shots (nine from outside the box; five on target, seven blocked and five off target). Last season he scored 15 goals from 91 shots in 27 matches.