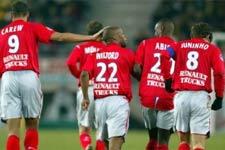 Gérard Houllier has announced a 18-man squad to make the trip to the Stade du Moustoir on Saturday to take on Lorient. Sidney Govou, suffering from a light knock on the knee will be rested…
The Squad: Benzema, Abidal, Berthod, Coupet, Clerc, Cris, Diarra, Juninho, Müller, Fred, Tiago, Källström, Malouda, Toulalan, Réveillère, Squillaci, Vercoutre, Wiltord.

GERARD HOULLIER:

What's been your reaction to the Real Madrid match?
When I watched the match again, what really impressed me was the speed at with both sides played the game. Whenever you dominate a match, you have the impression that your opponent must be weaker than you, but that wasn't the case. They played very well and I was impressed by the way in which we kept things moving so quickly. Each time we got the ball, you could feel something could happen. We are capable of dominating but also of being dominated. If we want to go a long way in that competition, we have to be able to do well in both eventualities: dominate and take the game to our opponents, but also be dominated and know how to get back and defend well. I place a lot of importance in solid and disciplined tactics, that actually allow you more freedom.
The secret to our success is hard work. We will never have done enough work, but we can still play well because when team morale is good, we are at our strongest work. Two things are especially pleasing in this squad. The first thing is the attitude of the substitutes and the efforts they make as soon as they come on. They bring freshness and dynamism and it's a real bonus because they often make all the difference. The second thing is the atmosphere within this group. In this squad there a real ethic of work, sacrifice and teamwork and it's that that makes it such a great atmosphere in the changing-room.

Why did you decide to play Patrick Müller against Real?
For several reasons, most of which were tactical.

Is it not hard to take on Lorient after such a match against Real?
No. It's just as exciting and passionate. I have no doubts about the players' attitude for this match. I know they'll be up for it because our number one goal this season is not beating Real Madrid but a sixth French league title. That means huge efforts in the league and also consistency with the results. Our month of September has six mountains to climb and Lorient is number three.