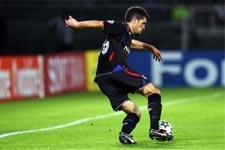 The day after their superb victory over Real Madrid, Jérémy Toulalan was delighted that Lyon made such a positive start to the competition but also highlighted to importance of getting another win at Lorient this weekend...
With a day to look back, how did you see last night's match against Real?
We had a really good first half and then we controlled the game after that. It was a good way to start the Champions League.

In the first half, you gave the impression you could easily have scored another two or three goals. Do you agree?
Yes, but we did score two all the same. I'm not sure every team in the world can score two against Real. It was a really great performance.

Can you ever actually enjoy playing in a match like that?
Yes, I think so. At any rate, I enjoy every match I play here. That's the most important thing. Once you're enjoying yourself, it means things are going well.

Are you surprised that you have just outplayed Real?
Yes and no. We made the game easy for ourselves by being really focused and careful at the start. After that it was easier because they've only played to Liga games so far this season. For our part, we've played more competitive matches and perhaps that was the difference.

Two days before the match against Lorient, and you're already obliged to start thinking about your next Ligue 1 opponents.
Yes, but when you're a player it's always better to be playing matches than training. So now we have to refocus and try and recuperate our energy.

What do you hope to get from the Lorient match?
We play every game to win. I don't know if the coach will rotate some players but whatever the team, we'll be going to Brittany to win.

Do you know much about this Lorient team?
Yes, a little. I saw their first half against Bordeaux and I was impressed. They lost, but they looked very good.

Is it not a bit tough to go from playing Real Madrid in the Champions League to playing Lorient in Ligue 1?
Yes, but this team is used to it and you always have to raise your game. You're never assured of your place in the team so you have to be really focused on your next game.