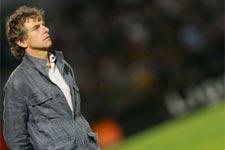 We wouldn't wish Lorient to be victim of the famous French proverb: "Never twice, without a third…" Indeed the Breton's have twice been promoted to Ligue 1 and they have gone straight back down. After five matches this season they are looking better, with eight points…
Audard and Co caused a real upset when they defeated PSG at the Parc des Princes on the opening day of the season. They are still undefeated away from home from 3 matches (1 win v PSG and 2 draws at Lens and Le Mans, both 1-1). At home, they have one win v Nantes, 3-1 and one loss 0-1 to Bordeaux. They have scored 8 goals (6 from inside the penalty area; 1 free-kick and one resulting from a free-kick); 4 goals scored in each half. Six goals conceded (5 from inside the box, 2 from crosses, and one from a free-kick). Gignac 3 goals, Fiorèse 2, Saïfi, Jallet and Morel 1.

20 players used. Audard, Morel and Abriel have played every minute of the opening five games. Marchal, Saïfi and Gignac have appeared in all five. Pédron has played just 6 minutes in 2 matches. While latest signing Steve Marlet, came on for the final ten minutes last weekend against Le Mans. Seven players have made their Ligue 1 debuts.

6 yellow cards: Fiorèse, Marchal, M'Bodji, Abriel, Le Pen and Moullec. 2 red cards (in the same match against Bordeaux) for Ciani and Mansouri.

Les Bretons have twice hosted Lyon in L1 for two defeats: 1-0 (Grassi) in 1998-99 and 3-0 (Anderson, Carriére, Govou) in 2001-02. Only Coupet has played in both matches.

Lorient finished 3rd in L2 last season. They have signed Medjani, Ciani, Le Pen, Marlet, Fiorèse, Saïfi, Namouchi… without forgetting the loan of Lyon 'keeper Rémy Riou. But they did lose their playmaker Ziani and Danic. The team finished with the best defence in the second division.