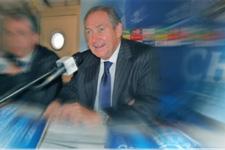 Lyon's first press conference of the new European campaign took place on Tuesday morning at the Stade Gerland. Gérard Houllier and Juninho fielded questions from the gathered media…
Gérard Houllier :

Gérard, is last season's win over Real an advantage?
It gives the team confidence. But I think it was our whole campaign that was important in that respect, even if it ended the way we all remember. All that experience gives us confidence and maturity for the upcoming matches, starting with Wednesday.

Have we seen the real OL so far this season?
In patches, yes. But not yet for a whole match. The preparation has been handicapped by two international weeks. The squad hasn't worked a lot and not together. But it's improving, even if we are behind where we were last season.

Is playing Real now an advantage?
It's the same as last season. I'll answer you at the end of the six group games. It's a different Real this season, as you know. I don't concentrate on the opposition. All I can tell you is that we have a good team. This Real team will be less romantic, probably stronger and harder to play against. The defensive sector is not the same as it was. But they remain as always a high class side. The essential thing is to believe in ourselves. We have the quality to get a good result.

Will it be a more physical game than last season?
All Champions League games are at another level in terms of physical. Discipline and tactical strength play a very important role. I expect a good game between the two sides.

OL have not recruited the striker they appear to miss…
That's a very unfair argument. You have to accept that sometimes are attackers may lack efficiency, but everyone can score the way we play football. Last season Carew and Fred were both new; Benzema is emerging as a better and better player…. We have enough talent to score goals and I have every confidence in them. Against Milan last season, it wasn't the attackers fault that we were eliminated.

Finally, you will be playing against Diarra…
That will be special. Everyone knows that he was much loved… by me included. I would prefer not to play against him. I know the difference he can make to a team. But there will be no friends out there for 90 minutes.

Gérard Houllier ended by naming his 20-man squad.
Abidal, Benzema, Berthod, Carew, Clerc, Coupet, Cris, Diarra, Fred, Govou, Juninho, Källström, Malouda, Müller, Réveillère, Squillaci, Tiago, Toulalan, Vercoutre, Wiltord.


---

[IMG41226#R]Juninho:

>Is it always a bit different to start a new Champions League campaign?
Yes. The last time was to be eliminated by Milan even though we still had a good season. We start a new season against the same club with a new team. The most important thing will be to qualify from the group and that comes with winning the first match.

Will Real be less Brazilian and more European?
More balanced at any rate. In the last three seasons they had undeniably great players but no balance. With Emerson and Diarra in the midfield they will be able to win more balls while maintaining their skill levels. This Real will be a very difficult team to play against. Just like us, it is capable of not conceding goals, while always able to score at any moment.

[IMG41236#L]You will be back against Real and also Diarra…
I would have preferred not to be but the draw is the draw. We have to forget all that and look to have a good game… Diarra? I have to be careful not to make a mistake and pass him the ball. It will be strange. On the field we really complimented each other and he deserves a lot of respect. It will probably be easier for him than for us. He knows us by heart, he's a warrior. May the best team win and I hope he has a good game.

Would you be happy with a draw?
I can't answer that until the end of the match. It depends on the circumstances that can always change. Personally, I always want to win and it's important to start with a win.