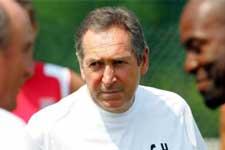 Gérard Houllier has announced a 19-man squad for Saturday's visit of Troyes. Alou Diarra will play with the reserves.
The Squad:
Coupet, Vercoutre – Abidal, Berthod, Clerc, Cris, Müller, Squillaci, Réveillère – Juninho, Källström, Tiago, Toulalan – Benzema, Carew, Fred, Govou, Malouda, Wiltord.

Gérard Houllier:

A word on the squad?
I've decided to take 19 players. Alou Diarra needs some playing time so he will play with the reserves. He needs to get back into competition quickly. Ben Arfa is still on the comeback trail but I hope he'll be back at training next week.

What are your impressions of the team after the international break?
Very good, above all. The team is getting as long as well as ever. We're preparing for a very important part of the season. I love that. We've had a long break, but all the players, in way or another, didn't really have a break at all. The players are focused on playing a good match against Troyes. We've got six games in 22 days and the squad needs to be ready for that.

What does this visit of Troyes inspire in you?
This Troyes team is a very good outfit. We've watched their matches, an I can tell you, they play the ball around well. They are dangerous when they've got the ball... even though they are quickly put in trouble without the ball. In all honesty and without getting things out of proportion, they remind me of Real Madrid. To win at last at the Stade Gerland? Indeed, without it becoming an obsession, that's the idea we have in mind.

Will you make any changes?
I won't tell you anything apart from the fact that Coupet will start. With matches every three days, we need freshness, just as we'll have to deal with all the niggles that come with competition. The squad? I'm happy with the quality of the squad and also that Sidney Govou has remained. Djila Diarra? Obviously i twill be different because the two players called up to fill that position are very different. I can tell you however, that I'm very, very happy with Jérémy Toulalan, as with the whole squad in general.