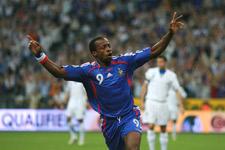 Sidney Govou talks to us about the World Cup final rematch against Italy, in which he scored a double. And he also discusses how much he's looking forward to taking on Mahamadou Diarra and Real Madrid in just a few days time…
Sidney, how do you feel after yesterday's match against Italy and your double strike? Do you have your head in the clouds?
No. I've still got my feet on the ground. I'm proud of what I did, but the main thing was the team win. It doesn't actually change much for me, even if there's suddenly a lot more interest in me today... But I've got to go on with it now after those two goals, that's not where it stops. Now I have to play for my club and play well.

Still, we can imagine that the ovation when you left the field was more than a nice moment for you…
At that moment I actually wasn't feeling my best. To tell you the truth, I didn't remember scoring or even touching the ball. All I felt was the clash of heads, I didn't see the ball go in the net and I only remember my teammates coming to congratulate me. After that I didn't even have the impression that I was at the ground, it was like I was just a spectator.

Why do you always score beautiful goals?
Now that's a good question. I'd actually like to score more but I guess I try to do the difficult things without thinking about too much.

How did you deal with the reservations of certain when you were called up to the World Cup, or when you were named in the starting line-up against Italy?
I don't pay any attention. Everyone is free to judge and being judged doesn't bother me. All I can do, if I'm called up to the France team by the coach is try and show that he was right to do so.

Are you still not really interested by scoring goals?
No, but certain players are more natural goal scorers than others. I know I'm not as talented as some but I'm working on it. It also depends on how the team plays. It's a bit like Flo Malouda; I think he should try and score more goals. So it's not a question of individual quality but also what you're obliged to do on the field. Sometimes I find I have too much defensive work to do. Nowadays I can see I've got plenty of energy and I can probably work in both departments now.

Did you do a lot of work during the off-season? Yes, I worked well. I didn't play so I worked hard to stay in shape.

Was it your choice not to play or was it a mutual decision with the club?
Both. Now we've passed the first of September and I'm ready to play. Now I want to play all the matches. I'm desperate to play. After all, I'm a competitor.

How did you deal with the recent uncertainty over your future?
I just got my head down and worked hard. I was always at Lyon which is why I was never that worried.

Are you glad to be staying at Lyon?
Yes, I feel good here, I've got my friends here and the other players appreciate me. I didn't want to leave because I didn't feel comfortable here, I wanted to leave to experience something new.

Did the World Cup give you new confidence?
I've always had confidence in myself, but the fact that I was called up late helped me fit in. I really felt good.

Do you feel that in the eyes of others, you always have to prove yourself a bit more than other players?
Yes. I always have to prove myself, but that doesn't change my approach to matches. I've got a very strong mentality. That's one reason why I'm not judged the same way as a new young player fresh off the blocks and maybe that's not any worse because I don't have to be constantly questioning myself because others are doing it for me.

Does all that make you believe in destiny?
No. I believe in myself and hard work. I believe you get what you deserve.

When will you extend your current deal?
Once I sit down to discuss with the president. I've seen Lyon's administrative manager, Marino Faccioli, who told me that the president wants to see me so we can chat it over.

On Wednesday, against a certain Spanish team, will you be looking to give even more than usual?
More? No. I simply want to play well and have a big game like every game. Last season I was very disappointed not to have played against Real Madrid. The Champions League games are always big games with a special flavour. What's more, this season we play against Real and Djila (Mahamadou Diarra). Playing against him will be a real laugh. I'd love to come face to face with him, but I won't lose my head to do it. Last season, he obviously had a great campaign with us, but we've recruited well over the summer and we can replace him with players that have other qualities. Jérémy Toulalan, for example, plays differently, but still wins a lot balls. It's up to us to help integrate the new players so that they can play to the best of their abilities.