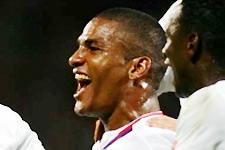 If he plays against Troyes, Florent Malouda will make his 200th Ligue 1 appearance. He has scored 32 goals: 17 for Lyon and 15 for Guingamp...
Having forced his way into a regular starting place with the national team (22 caps, 3 goals) Guyana-born Malouda began his L1 career with Châteauroux on January 14, 1998, versus Cannes (2-2). It was the only match he would participate in with 'La Berrichonne' before joining Guingamp. There, he played 92 games in three seasons, scoring 15 goals. He scored his first ever L1 goal against Saint-Etienne in the 2000-01 season. The next season he added another four goals v Monaco, Sedan, Lorient and Bordeaux. In 2002-03 he lifted the tempo with 10 strikes: 2 v Lyon, 1 v Le Havre and Bordeaux, 2 v Lens, 2 against Rennes and Troyes and Monaco.

After his time in Brittany, he signed for OL. 35 matches and 4 goals in his first season (Ajaccio, Rennes, Nice, Le Mans); 37 games and 5 goals in 2004-05 (Toulouse, Caen, Toulouse, ASSE, Bordeaux); 31 matches and 6 goals in 2005-06 (Metz, Sochaux, Metz x 2, Sochaux, Nice). He has already played three games this season, scoring 2 goals (Nice, Toulouse).

32 goals in all including 21 scored at home (12 for OL). He has scored 3 goals against Toulouse, Nice, Metz and Rennes; 2 goals against Sochaux, Bordeaux, ASSE, Monaco, Lens and OL and 1 goal against Caen, Ajaccio, Le Mans, Le Havre, Bastia, Troyes, Lorient and Sedan.

Flo is also sets up his fair share of goals and with the dead ball, as was the case recently against Nice with his free-kick that picked out Tiago. They are the stats that stand out, but Malouda also does a lot of the dirty work, pressing, tackling, accelerating the rhythm and showing off his Brazilian skills. 200 matches in L1, including 107 for Lyon should he play against Troyes. In the process, he will become the fourth Lyon player to join the '200 Club' along with Coupet, Réveillère and Wiltord.