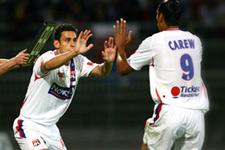 The decisive factor in team sport is so often the quality and depth of the bench. OL has been developing a rich list of substitutes over a number of years and after four games this season, Lyon's Super Subs have already proved match-winners…
Neutral observers all make a point of noting Lyon's incredible mental strength which sees them never give up, even if they're trailing or being held with just minutes to go. How many times has this team managed to turn around the situation when all appeared lost. The substitutes' bench scored 12 of the team's 105 goals last season as well as notching seven assists, effectively changing the result of nine matches.

Since the start of August, that impact has grown. In the opening four league games this season, five out of ten goals have come off the bench: Fred against Nantes, without changing the course of the game; Malouda against Toulouse (draw); Wiltord at Bordeaux for the win and Benzema at Nice, twice (!), the fiorst of which gave Lyon the lead. Gérard Houllier's Super Subs have scored in every match! And don't forget that the goal against Toulouse was the result of all three substitutes combining (Juninho, Fred, Malouda), exactly the same as happened against Bordeaux with Källström, Benzema and Wiltord.

Of the 20 clubs in Ligue 1, the French champions are the only club to boast such a prolific bench. Marseille are second best with two 'sub' goals in four games (Maoulida v Rennes and Bamogo v Le Mans), then Nantes (Rossi), Valenciennes (Bezzaz), Nancy (Dosonmu), Monaco (Gerard), Nice (Ederson) and Troyes (Bangoura).

Three times Gérard Houllier has made all three substitutions during a match and just once has he decided to use only two from his bench.