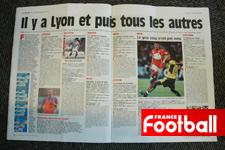 In Tuesday's edition of France Football, the magazine ran with that headline referring to Olympique Lyonnais' summer recruitment, concluding that the club has made all the right moves…
Far removed from the rumours of "disappointment" and "broken promises at no big names", even though the club stressed that they would only bring in a star if Sidney GOVOU left (the quintuple champion of France has decided to remain), this new article just looks at the bare facts of Ligue 1 club's summer dealings.

"Only OL seem to be playing on a global stage," stated France Football, explaining that Lyon recruited did what they had to do to stay at the top of the domestic game.
Placed number one in the buyers list of Ligue 1 clubs having spent €26,5m, according to the magazine, OL was far ahead of PSG, fourth with €13m and even further ahead of Marseille, tenth having spent €7.4m.
In the sellers standings, Lyon are also top of the bill with €50m worth of receipts while PSG are eighth with €6.5m and Marseille 12th with €4m.