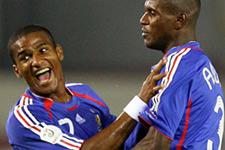 Florent Malouda scored again on Saturday in France's Euro 2008 qualifier against Georgia. He's already scored two in three games for OL and is the Lyon player to have taken the most shots at goal in the league…
Will Juninho have a new name to compete against this season for the most number of shots at goal? Perhaps. Florent Malouda is certainly throwing down the gauntlet. The left-sided midfielder confirmed that following the departure of Zinedine Zidane from the France squad he would be looking to be more cutting... and for the moment, it seems to be working. Five shots against Toulouse in 57 minutes of play, four shots against Bordeaux and seven against Nice. The Guyana-born player has taken eight shots from within and eight from outside the penalty area: three shots on target for two goals, four shots blocked and nine off target. Last season he took 63 shots in total. He has already scored 32 league goals in 199 appearances. Will he add another in his 200th L1 match versus Troyes?

Behind Flo come Juninho and Carew with 10 shots in 180 minutes apiece. Nine shots from outside the area for Juni including seven free-kicks: two shots on target, four blocked and four off target. For Carew, he has taken four shots from inside the box and six outside: two on target, four blocked and four off target. Neither player has yet scored. Karim Benzema is next in line with nine shots taken with five from inside and four from outside the penalty box: four on target, two blocked and three off target. The France Under-21 international already has three goals to his name including a double against Nice.

Fred has played in all four league matches this season and has taken five shots from within and just two from outside the area: five on target and two off target. The Brazilian has scored twice. Tiago has tried his luck six times including four from outside the area: one shot on target – one goal – four blocked, including Fred's goal against Bordeaux and one off target.