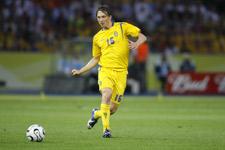 With a round of Euro 2008 qualifiers and international friendly matches, several Lyon players were in action this weekend...
In Group C, Norway defeated Hungary 4-1 thanks to a double from Ole-Gunnar Solskjaer. John Carew played 75 minutes. On Wednesday, the Norwegians host Moldova.

In Group F, Sweden registered a good 1-0 away to Estonia. Kim Källström was the scorer. I twas his fifth goal in 40 international caps. He was replaced in the 71st minute by Svensson.
On September 6, Sweden hosts Liechtenstein.

There was no official qualifier for the Swiss, but the Four Nations Tournament brought together Venezuela, Austria, Costa Rica and Switzerland. Yesterday, Switzerland defeated Venezuela 1-0 thanks to Alexander Frei's 30 goal in 51 internationals. Lyon's Patrick Müller played the entire match in the centre of defence, earning his 70th cap in the process.
On Wednesday, Switzerland plays Costa Rica at the Stade de Genève.

On Friday in Copenhagen, Portugal lost 4-2 in a friendly against Denmark. Tiago played the first half before being replaced by Petit at the break.
On September 6 in Helsinki, Portugal play their opening Euro 2008 qualifier against Finland.

At Emirates Stadiuml in London, Brazil crushed Argentina 3-0 thanks to a double from Elano and a goal from Kaka. In the starting line-up, Fred played 80 minutes in the Brazil front line.