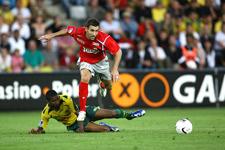 The only Lyon player, alongside Jérémy Toulalan, to have played every minute of all four league matches this season, Anthony Réveillère discusses the importance of this mini-break to prepare the rest of the season and also reveals his joy at playing again after a difficult 2005-06 season…
Anthony, with the international players away, there aren't many of you at training this week. Does that make the sessions a little more relaxed?
You might get that impression seeing the players play foot tennis yesterday, but I can assure you it's not actually the case. We're working very hard physically, even if there aren't many of us. Foot tennis just lets us finish off the session with a bit of fun. Today we've got another huge session before having two days off. We're profiting from this mini-break to work hard on the physical side because when the Champions League starts we're going to have a lot of games. We have to use this time to prepare for when we're playing every three days. In some respects we're completing pre-season training. Soon we'll be playing all the time and working on recuperation to ensure we keep winning.

With the three early summer signings, there weren't too many changes to the squad in August. With respect to last season's team, that's probably a good thing isn't it?
Yes, we know each other really well and our understanding has shown in a good start in the opening games. There's also a good atmosphere within the squad. It bodes well for the rest of the season. We can only get better. Soon we'll be playing on all fronts and between the Champions League and the championship we've got some big ambitions and we'll do everything to make them happen.

After your injury last season, you're back in the starting line-up. We can only imagine that playing again is a great source of happiness for you?
The most important thing is to get back playing in competition. Last season a really struggled with my injury and then the re-injury. Morally and physically, the two months holidays did me the world of good. I recovered well and worked really hard in Tignes during the preseason camp which is so important for the start of the season. I returned with a really positive outlook, so I'm really happy. Lets hope it continues.

Have you set goals?
We're competitors. So above all we've got club goals. The league crown is our number one aim. It rewards consistency whereas in the Cup competitions, it often down to chance as we saw last season in Milan. In the Champions League, obviously we want to get passed the quarter-finals. But we can't get ahead of ourselves and we have to get passed the first round. All season we have to take the matches one after the other. For every league match there will be three points on offer. For each game of the Champions League we're talking about qualifying. For each round of the cups, it's all or nothing. The France team is obviously somewhere in my head. I have to give the best of myself with the club and hope that I'm rewarded.