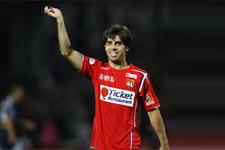 Juninho talks about his free-kick competition with Cris, Olympique Lyonnais' month of August and also wishes Fred good luck for the South American blockbuster: Brazil – Argentina…
Juninho, we saw you taking free-kicks earlier with Cris. He asked us to tell you that from now on it's him that's taking them during matches.
(Laughter) I've been asking Cris and the others to do some free-kick practice with me for ages. For a joke he said there's no point because in a game it's me that will take them. But he was good today, he even scored twice… even though he took at least 20, ten of which were really quite bad. Once we're in a match, I'll certainly try to get in ahead of him. It's always good to train with the others to show them that to do this type of thing you really need to train hard. I love staying behind after training to work on free-kicks.

How have you seen OL's month of August?
Really positive. Out of a possible 12 points, we got ten. It's obviously a good way to start but we don't have a big lead over the other teams. Even if we have earned ten points, the most important thing over the four games is that we were really consistent. We were just as good against Nice as we were against Bordeaux. Against Toulouse we showed a lot of good things, despite the draw. But we can't take the foot of the gas or think that we're playing well enough. We're not a long way off, but we're not playing 100%.

Will you be watching the Seleçao and your teammate Fred against Argentina on Sunday?
I didn't even know if it was on Saturday or Sunday. I've made a clean break with the national team but of course I'll watch if it's on TV. I hope Fred has a good game so that he comes back happy and can play his best with us.