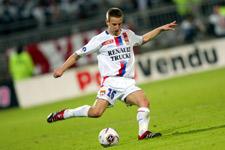 Benoit Pedretti has signed a three year deal with Auxerre. He was an OL player for just one season…
Never used so far this season by Gérard Houllier in 5 official matches and all too aware of the competition for places in the midfield despite the departures of Diarra and Clément, the France international, quite understandably wants some more playing time. He is the last former Sochaux player to quit OL following the summer departures of Monsoreau and Frau.

So Benoit, it's official, you're leaving?
"Yes, everything was finalised between the two clubs on Tuesday. The first contacts date back about two weeks but it always takes a bit of time to finalise these things. I had other offers, but I chose Auxerre. The club and the coach wanted me and that's important. Even more so, considering I know Jean Fernandez. I was looking for more playing time and I'll be training this afternoon with Auxerre. The coaches have switched morning training to the afternoon so that I will be there."

What memories will you take with you of OL?
"Of winning the league and the Trophée des Champions. Also the incredible team spirit. I think I improved and obviously I wish the team and the club good luck for the season."

What are you looking for now?
"I hope that everything goes smoothly, that I can play and continue to improve. My first match? I'll meet up again with 'Sly' Monsoreau when we host Monaco. September will be a busy month with Ligue 1, the Coupe de la Ligue and the UEFA Cup."

Pedretti's record at OL

1,513 minutes played - 30 appearances (21 L1 matches, 1 Trophée des Champions final, 5 Champions League matches, 2 Coupe de France games and Coupe de la Ligue match) including 20 in the starting line-up. Pedretti played 12 matches in their entirety: GF38, AC Milan, Rosenborg, Lille, Nice, Sochaux, Ajaccio, Troyes, Nancy, Strasbourg, Le Mans, Trophée des Champions against Auxerre. 2 goals (v Sochaux and St-Etienne); 3 assists (Troyes, Strasbourg, Ajaccio); 5 yellow cards.