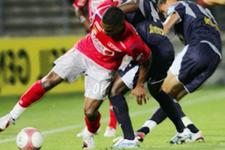 Since the start of the season, OL are yet to lead into the half-time break… most of Lyon's goals are coming from the wings… Malouda has had a hand in 5 of the 7 goals goals scored while he has been on the field…
In 5 official matches this season, OL has never led at the end of 45 minutes: 0-0 v PSG, 1-1 v Nantes, 0-0 v TFC, 1-1 v Bordeaux and 0-1 v Nice at the Stade du Ray. OL has trailed on the scoreboard in four of the five games so farand has registered four wins out of five. Last season, OL led 24 times at the break, was being held to a draw on 19 occasions and trailing 11 times. Les Lyonnais have scored nine second half goals this season but have taken the same number of shots in the first half as they have the second: 51 shots per half. The Olympians have conceded one goal in every game.

In 5 official matches, OL has scored 11 goals. 10 have come from the wings: 5 from the right and five from the left. 4 have resulted from dead-ball situations.

Malouda did not play in the games against PSG and Nantes. He came on during the match against Toulouse. He has had a decisive hand in five of the seven goals scored by Lyon since returning to action. A goal against Toulouse and Nice; two assists v Nice and the second last pass for Tiago to shoot against Bordeaux, deflected home by Fred.