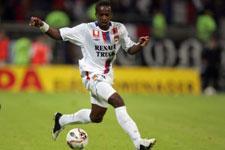 Contrary to what is printed in Sunday's Journal du Dimanche, Jean-Michel Aulas confirmed on Saturday that Olympique Lyonnais will recruit a great attacker if Sidney Govou quits the club, as the player himself has announced is his desire!
"We hope that Sidney can find a club that meets with his desires. For our part, we've never wanted him to leave, but if it has to be, then we're working around the clock to bring in a big name replacement for him before August 31."

Sidney Govou, played with the reserves and showed just what a quality footballer he really is!

A great match was punctuated by two goals and Sidney showed an incredible commitment throughout.
The staff of the Olympique Lyonnais reserve team, also applauded the player for his role after the match – a true professional!

It was no surprise then, that president Aulas, at the end of the win over Nice, told OLTV and Canal+ that the club loves the player for everything he has brought over the last five seasons. The president had already posed the question at last Thursday's press conference: Isn't the best attacking recruit for OL… Sidney Govou?