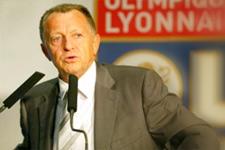 Who said what after the Nice match…
Patrice Bergues
Nice scored first and it's never easy to come from behind, especially away from home, but the players did it and did it with style. The scoreline speaks for itself, even if I think it's a bit tough on Nice. We were dominating before we got caught out on the counterattack. In the first half, we continued to play our own football. In the second half we made them run… in they end they had to crack once we found our touch in front of goal.
The goal we conceded is part of football. They played that way and scored a great goal. Above all you can't lose your temper in that situation and you have to stick to your game plan.
It's never easy to start again after such a successful campaign as we had last season. It's important to set out our stand at the start of this season. The draw against Toulouse was a little wake up call and a warning… we came back down to earth. Today, we're back on track.

Jean-Michel Aulas
It's a great result to win here 4-1. They are a tough team to play and they made life very hard for us in the first half. Well done to Gérard Houllier for his coaching because he found the right words, the right organisation and the right players after the break, like the introduction of Kim Källström, which was crucial. Karim will become a truly great player. He's a kid from Lyon and can show off his incredible talent with his club. It's great to see the young players that come out of nowhere with Lyon and show off their talents across Europe – it's a great add for the OL youth academy.
The month of August has been very good for Olympique Lyonnais because we started with a big handicap. We started the league before the other championships and were penalised with the absence of our internationals and we also had to play three of our first four games away, penalised again because Alou Diarra couldn't be qualified to play while Benoit Pedretti, who is about to leave couldn't play either… We were in a tough position but we got out of it because the players showed incredible determination throughout August and it's been a great month.
Concerning the transfers, we hope that Sidney can find a club that meets with his desires. For our part, we've never wanted him to leave, but if it has to be, then we're working around the clock to bring in a big name replacement for him before August 31. Benoit, approached by Auxerre, has asked us to agree to loan him to them and we have agreed. Now Auxerre want a transfer so we're trying to find some common ground, for a player that we've always been very pleased with. Hatem should sign a new contract, as he's promised me, in the coming days which will see him stay at Lyon.

Grégory Coupet
We conceded a goal, but it was a fantastic goal. It was all down to Vahirua and we didn't panic or question ourselves. We're a calm side and we have great confidence in our preparation, physically we're in good shape and we've got a great bench… We know we can always turn around the most difficult of matches.
Other teams are ready for us, it's true, but we always have a great respect for the opposition, but we always stick to our game plan… as long as it keeps working, we won't change…

Gérard Houllier
This match reminded me a little of the one against Rennes last year. We conceded a brilliant goal from a Kallström shot and today it was Vahirua that scored a magnificent goal. But I was confident because we were playing well, we just needed to be a little more cutting, that happened and we won.
I wanted the team to show it's physical and mental strength and today we're on the right path. I would like to acknowledge Wiltord's great match because it's the first game he's started since May 13. He was superb from start to finish.
In this month of August, we're just missing two points for it to be perfect. It was just a lack of concentration which proves that we're human and that we still need to work on certain things.