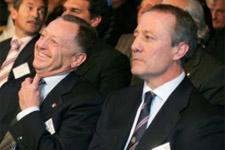 Jean-Michel Aulas gave his impressions of the Champions League draw to OL SYSTEM after drawing Real Madrid, Steaua Bucarest and Dynamo Kiev in Group E…
Jean- Michel Aulas:

Président, your reaction to this draw?
It's a tough draw. The draw often seems to produce the same matches year after year, like Chelsea metting Barcelona for the third year in a row. That will also be the case for us and Real Madrid. It's a bit surprising because we've just spent a whole week with Real trying to finalise the transfer of Diarra and it's still not finalised, by the way, because we're still waiting for the financial gaurantees. All the groups are tough, but there are some tougher than others. The draw has also given us the opportunity to play against some new clubs. We have to be careful but it's good that we are starting with a home match. We know that the first match is important to win of we want to qualify. We'll be playing against Real and that will be a revenge for last season. It will also be a revenge for us because we didn't appreciate that they came and got Djila on August 14. If they'd come looking earlier we would have understood. I'm also convinced that the player who replaced Djila will be extremely motivated to do just as well as Djila.

We don't know as much about the other two teams in the group. Could they be two dangerous trips?
Absolutely. We are expecting to very tough trips against two very solid teams. We will have to pay special attention. Kiev is a team that plays good football with very good players. Gérard Houllier will do everything he has to do to supervise the opposition before we meet.

How do you feel this evening?
I feel calm because I think we have the quality to get out of this group and we want to. But we also know that other teams have the means to cause us problems as well. Calm and wary, but calm all the same.

What are Lyon's objectives in this competition?
Fir the group stage we hve to remain extremely humble. The aim will be to get out of the group and do better than previous years. Then we'll look further.