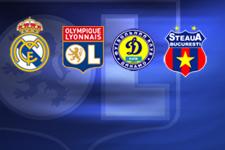 On Thursday evening, the draw for the Champions League group stage was held in Monaco. Olympique Lyonnais was drawn in Group E along with Real Madrid, Steaua Bucarest and Dynamo Kiev.
So Les Lyonnais meet again with Real Madrid, a club they beat 3-0 last season at the Stade Gerland before drawing 1-1 at the Estadio Santiago Bernabeu. This time they will be up against their former teammate Mahamadou Diarra who recently joined the Spanish club. A Spanish side that has been reinforced over the summer with the arrivals of Emerson, Fabio Cannavaro and Ruud Van Nistelrooy.

Calendar:
Wednesday September: OL – Real Madrid
Tuesday September 26: Steaua Bucarest – OL
Tuesday October 17: Dynamo Kiev – OL
Wednesday November 1: OL – Dynamo Kiev
Tuesday November 21: Real Madrid – OL
Wednesday December 6: OL - Steaua Bucarest

History:
OL played Real Madrid twice last season, but has never played Group E's other two teams.
Real Madrid has already won the competition 9 times. Steaua Bucarest won the competition back in 1986, overcoming FC Barcelona in the final, 2-0 on penalties. The Romanian club was also a finalist in 1989, beaten 4-0 by AC Milan.
Olympique Lyonnais are the only team in this group never to have won a European Cup because Dynamo Kiev twice won the Cup Winners Cup in 1975 and 1986.

The reach the group phase, Steaua Bucarest and Dynamo Kiev went through the qualifying matches. They defeated Standard Liège (2- 1; 2- 2) and Fenerbahçe (3-1; 2 - 2), respectively.

Both OL and Steaua Bucarest won their domestic leagues last season. Dynamo Kiev finished second in the league, won the domestic cup and also made last year's UEFA Cup semi-finals.

The Groups:
Group A: Barcelone, Chelsea, Werder Bremen, Levski Sofia.

Group B: Inter Milan, Bayern Munich, Sporting Lisbon, Spartak Moscow.

Group C: Liverpool, PSV Eindhoven, Bordeaux, Galatasaray.

Group D: Valencia, AS Roma, Olympiakos, Shaktar Donetsk.

Group E: Real Madrid, Olympique Lyonnais, Steaua Bucarest, Dynamo Kiev.

Group F: Manchester United, Celtic Glasgow, Benfica, Copenhagen.

Group G: Arsenal, FC Porto, CSKA Moscow, Hamburg.