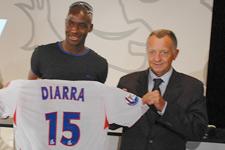 During the press conference and just days from the end of the transfer market, Lyon president Jean-Michel Aulas discusses the clubs recruitment… the signings… the departures…
Lyon has less than eight days left before the close of the transfer market in which to complete its summer recruitment. If Sidney Govou leaves, we need to bring in another world class player.
"Sidney hasn't left yet and there are still a few days left… new clubs will come in." Bernard Lacombe gets straight to the point. His statement confirmed by Olympique Lyonnais president Jean-Michel Aulas: "Concerning Sidney, we have received a lot of offers. The transfer market is moving and we should have some more news in the coming days.
As for the arrivals, Joaquim is not the only priority but he is one excellent player that interests us for that right side we are prepared to invest. Negotiations are underway with four different players, with different profiles and in different countries… So e have to be available. I myself was overseas this afternoon, we're looking, we're working… And if we feel the need to replace Sidney if he leaves, then we will.

Camoranesi is still an option. It depends on Juventus. If we have the chance to bring in a world champion who is one of the technically best players in the world, as the French players at Juve have confirmed, we will do what we can to try and bring him here. Juventus are trying to stop all departures as part of their judicial process. As a result, it's impossible for the moment but I hope that common sene will prevail and that things will start moving again. The player has already told us of his willingness to join Lyon.

And if there is a choice to make? I will turn to Bernard Lacombe and Gérard Houllier and we will reach an agreement. The two players are very different, one is 29 (Camoranesi), the other is 25 (Joaquim) so it's not the same price, not considering international achievements. They are two of the four that interest us but there are others, that we won't talk about for the time being.

We are also keeping an eye on all the great players who could play for Lyon this season, or next. Trezeguet is also tied to whether or not Juventus can free him. Today they won't, so we're not talking about it.


We wanted to recruit irrespective of Djila's departure which was not foreseen. That gives us the possibility to buy, but, as we learned from other big clubs, you mustn't buy just because you have money. So it's not an incredible deal, despite the huge figures for a defensive midfielder. The second biggest of the year after Shevchenko to Chelsea, and bigger than those of Emerson and Cannavaro, Ibrahimovich, Van Nistelrooy…

[IMG41137#R] We had the chance to bring in Alou Diarra and perhaps we'll have the chance in three or four years to make another deal with Real or Chelsea like we have with Djila. He's only 25 and has a lot of talent…
Our economic situation is solid and that lets us buy new players but also improve the lub's infrastructures.

Today, the OL squad counts 26 internationals including 17 full senior internationals. That means there's lot of competition for places. Certain players accept that for one year, but not for a second year. Benoit Pedretti informed us of his decision to look for more playing time in another club so if he needs to play somewhere else to rediscover his best form then we will let him go, but it is not a question of his undoubted quality. I'm convinced that Benoit could make it at OL, he has all the qualities necessary and our aim isn't to reinforce an opponent either.