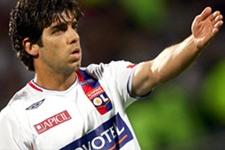 Juninho discusses Lyon's victory over Bordeaux, his current form and this Friday's Champions League draw. He also highlighted to need to respect this weekend's opposition Nice, if the side want to win on the Côte d'Azur.
Juninho, we imagine that the Bordeaux win has done you the world of good…
It was a very good match and an excellent result. To get all three points away to Bordeaux is never easy. After the draw against Toulouse, we knew how to bounce back and regain the points we lost at home. We deserved to beat Bordeaux, but now it's in the past. We're only at Week 3 of the championship and there's still a lot to do. On Saturday against Nice, i twill be another tough road trip. I hope that we'll be up for it.

On a personal note, how did you feel against Bordeaux?
Really, really good. I could have played the whole match. All the same, you have to recognise that we're not yet at 100%. I feel I'm still missing a little something, even if I don't think I'm far off top form.

This match seems almost like a trap, is that how you see it?
Yes. We really want to 'do something', but for that we have to have respect for them. Nice have only earned one point so far this season. So they'll be doing everything they can to win ahead of the little international break. It will be up to us to show our true quality again to win the maximum number of balls like we did against Bordeaux and then make the most of the chances that come our way.

I twill be a big week for you because on Friday there's the Champions League draw…
We are already fully aware that it's great to be participating in such a competition. At each draw we pay the utmost attention because we know there aren't any little teams anymore. It will be tough against any opponents. To start and finish at home could prove the little bit extra you need and that's why I prefer to play at home last. In my opinion, being seeded top doesn't change much. The most important thing is to pass the first tour because I think that's the toughest part. Even more difficult than the round of 16 and the quarters.

Will it be the chance to finally bury the memory of AC Milan?
We already over it. That was perhaps the biggest disappointment of last season but we got over it by finishing the season so well.