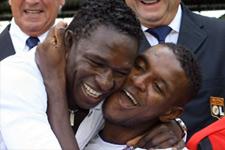 In a Stade Gerland, bathed in sunshine, Olympique Lyonnias' professional football team posed for this season's official team photo in front of the Jean-Bouin stand.
The photo session began with individual protraits. Realxed and smiling, the 27 Lyonnais then made several appearances in front of the lenses, in the season's various strips. The atmosphere was festive and Eric Abidal's faces and Tony Vairrelles impersonations had Grégory Coupet in stitches.

The session was well underway when the Stade Gerland was shattered by a heartfelt cry: "Djila!" Having arrived to say goodbye to his, now, former teammates, Mahamadou Diarra emerged from a tunnel in the northern stand and made his way slowly towards the squad. When he was spotted, the entire squad broke into the traditional chant reserved for the Malian international: "Mahamadou, Mahamadou, Mahamadou lé-lé". Members of the coaching staff, the club directors and the players, Djila saluted each individually while Abidal teased the members of the press: "Are you happy now, journalists?"
Before heading to the changing rooms, Joël Bats posed for the cameras and was quickly imitated by who else, but Abidal.

The 2006/07 team photo will soon join its predescessors on the wall. An irreplaceable souvenir, witness to the history that OL is rewriting year after year. Victory after victory.


---

After visiting his teammates one last time, Djila Diarra didn't forget to publicly thank his teammates and the Lyon fans for those 'four superb seasons.'

Djila, what impressed you most in your four years at OL?
Everything. Everything. Everything. First of all the team. Each year we knew how to do the right thing. But also the supporters and everyone that worked for Olympique Lyonnais. I met a lot of suer people. There's not a lot more to say. I'll miss a lot of things about this club. I'd like to thank everybody, but most of all my teammates with whom a spent four superb seasons. I'm also thinking of all the personnel at OL… (pause) … I honestly want to thank everyone.

What do you want to day to the fans?
I'd like to thank them, because for four years they were always right behind us and pushing us on during the good times, but also during the bad times. My only regret is that I left the Stade Gerland after a draw.

You appear a little emotional…
Yes. It's really not easy when you leave after four superb years. But that's football. Destiny made it's choice. It's not easy but my heart will always beat with that of OL.

Will you continue to follow the team's progress from Spain?
Of course. I'll be the No.1 supporter in Spain. I'll watch all the games.

Do you want to play OL in the Champions League?
No, that would be too tough.