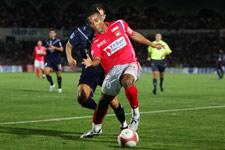 Check out all the reactions to OL's 2-1 win over Bordeaux.
Juninho: It's a really, really important result. And what's more, we played really very well. Our first half was almost perfect and the win is absolutely merited.
All the same, it's only Week 3. There's still a long way to go and we saw again tonight that this season will be harder than the last ones.
As for my free-kicks, what annoys me is that the wall no longer respects the 10 yards rule and they jump with their arms in the air. Under these conditions it makes scoring almost impossible. Amongst ourselves, we know that even when things are tough, we stick together. Tonight, our team spirit proved to be the difference. I'm delighted that once again we've managed to keep that incredible atmosphere in the changing-room, but I repeat, the season is still very, very long and will be very, very hard.

Gérard Houllier: I'm proud of my players because they stood up to be counted. We had a lot of free-kicks against us and I'm proud because the players showed an incredible mental strength.
You have to stop thinking that the championship is already finished and won. The title is won in the stadiums. I really liked both halves of football, for different reasons. In the first half we made more of the running, but in the second half, we built out victory like workers, bricklayers. You also have to take your hat off to Coupet and his save at a critical moment in the match. The introduction of the three replacements proved decisive, but the victory is for the players, not the coach. Matches are won by 14 players, not 11. Tonight it was the players' attitude and spirit that won the match.

Florent Malouda: It was a really tough match but we got stuck in and we got what we came here for. In the second half we stepped off the gas a little, but we held them out and in the end we won thanks to other qualities and in staying focus and clear headed. In my opinion, it's the first turning point of the season. They were waiting for us and we showed that we weren't scared and that we truly are the reigning French champions.

Jean - Michel Aulas: We won in enemy territory and I say that because there were incidents before the match and our team bus was attacked. It's quite worrying and it is looked upon as a very serious occurrence in the eyes of the League. Was it to upset the players? It's a hostile context that the press don't cover adequately. There's a lot of jealousy towards this Lyon team which against showed its enormous qualities. The team knew how to overcome adversity, despite conceding an early goal and produced a stunning first half. It really is an incredible achievement considering the week we've had with the departure of Djila Diarra. And tonight we won without the services of Carew, Ben Arfa and Govou. I can tell you that there's an awful lot of enthusiasm being shown in that changing room. This team is great to see. They know how to stay calm when faced with the biggest of matches.
Concerning Sidney, we still haven't received any offers. Is it not a good time to re-sign Sidney and get him to extend his current deal? That's up to him. Sidney has been part of all of Lyon's greatest moments. He wanted to look around, at another club, but he's staying for another week. If at the end of the week there are still no offers then we'll have to think about the situation because you can't keep such a quality player out of the squad.
With the money from the Diarra deal, we can perhaps start looking for a replacement and also a replacement for Sidney if he leaves. (Alou Diarra? ) Perhaps. He's not the only option, but he is one of our serious considerations. Personally, I'd prefer to get a player in the France team.
(Franck Ribéry?) Everyone can see that what Marseille were saying about is destabilising the team is clearly not quite right: they are first in the league and Franck is still there. That's something I regret because it would be a real bonus to have Ribéry in this team. But it's only on hold, I hope. We'll see in the future.
(The desire to have a world champion in the squad?) There's always a great desire to have internationals in your squad. You can only replace an international with another international. The quality of his club means we have to look very high. If he's not an Italian he could be a Spaniard or even a Portuguese. We'll do everything we can to bring in a quality new player which will Gérard another option to play with in his squad.