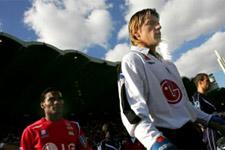 It's the blockbuster of Week 3. Bordeaux, maximum points and yet to concede a goal, host OL, just two points in arrears and held to a draw last weekend by Toulouse, whose week has been dominated by transfer wranglings and will play without all its international contingent…
It's only been two weeks since France's top flight clubs have been back in action around the nation, but already the form guide is taking shape. It's a little too early to be talking about points gaps, but Bordeaux would certain enjoy putting five points between themselves and Lyon so early in the campaign. The Olympians haven't had such a big gap between themselves and top spot since the 2003/04 season. It would be another blow before a second road trip to Nice, and on the eve of the club's new European adventure, not forgetting the destabilizing news that Mahamadou Diarra's departure now seems certain and the long term future of Sidney Govou still up in the air… Mentally, as much as mathematically, captain Claudio Cacapa and his teammates will be desperate to leave the Stade Chaban Delmas with a positive result.

"Our preparation for this match hasn't been upset at all. And this match hasn't come too early for us. Bordeaux are the favourites of what is quite simply an enthralling match-up. I recall that Bordeaux struggled against Lorient, just as we did against Toulouse. The only difference? Bordeaux collected all three points and didn't concede a goal." Grégory Coupet hasn't lost the smile and that's a good sign. He even added: "If Djila isn't here anymore, we have the players to replace him…" As for Gérard Houllier, he confirmed that "we are going to Bordeaux to win. I'm telling myself that Bordeaux could easily find themselves one point behind us, rather than Lyon being at the wrong end of a five point gap."

Bordeaux are playing well, a la Ricardo. They are as solid as ever, even if the Brazilian is still searching to re-enforce his squad. Hardly setting the world alight last season, Bordeaux were frightening ruthless and little has changed over the summer, except for the arrival of playmaker Yoann Micoud, already a match winner at Lorient. This week Stéphane Dalmat joined the club on a one-year deal and those two players alone know how to play with the ball at their feet! With six points from their opening two games: three goals scored and none conceded, Ramé and Co, still without the services of Smicer, Fernando and Dalmat, are in excellent form to take on the champions. Another plus for the hosts i stat they weren't unduly taxed by the midweek international friendlies either with just four players concerned, as opposed to 14 for OL. The Bordeaux ground will be full to bursting as the side goes looking for their first win against OL on home soil since the 1998/99 season. Without forgetting, of course, the crazy match on September 17, 2005 in which Bordeaux felt legitimately hard done by as the referee that day, Monsieur Derrien refused them no less than three penalties for hand ball in the OL penalty box. Micoud will play his first home game since returning to France and admits he will "be giving it everything." What a match we have in prospect!

"Bordeaux are the favourites. It will be like a Champions League match. A match for real men…" Gérard Houllier is excited by the match. He ias called up 19 players, including 10 World Cup stars. Only Govou has not been called up. As for Carew and Ben Arfa, both carrying knocks, are not making the trip to the Gironde. The starting XI remains to be seen. In going with the return of Cris in the centre of defence, the former Liverpool boss will have to "sacrifice" either Caçapa or Squillaci. Abidal can't be far away from returning to the left-back spot, he who played a full 90 minutes with Les Bleus against Bosnia in midweek. "I will be taking into account the midweek games when choosing my team." Just what does Houllier have in mind when dropping that hint?

Diarra is now absent, but who will replace him? Tiago? Toulalan? Pedretti? Will the formation change like we saw last season against Le Mans, Nancy, Rennes and Milan or will the famous midfield triangle be simply inverted as we saw as we witnessed against Lille, Monaco, Nantes, Troyes, Nancy and Strasbourg? Will Wiltord start on the right? There are still plenty of question marks just hours from this top of the table clash. The clash provides OL with another opportunity to show off their mental strength as well as their numerous qualities on a football pitch.