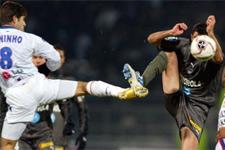 Juninho made his return to club action in the second half against Toulouse last weekend. But having made the Lyon top-ten goal scorers chart of all time last season when he scored his 65th goal against Le Mans, the Brazilian has never hit the back of the Bordeaux net…
27 free-kicks; 9 penalties; 29 from open play. He's beaten more than 40 goalkeepers (60 times with his right boot) but never once, in ten matches against Bordeaux: 8 times against Ramé and twice against Roux. Although he has servedup three assists in his time: for Luyindula and Govou at the Stade Gerland and Anderson at the Stade Chaban Delmas. He captained the side last season in the 0-0 draw at Gerland.

5 other teams in Ligue 1 hae also escaped the sight of 'Juni' scoring against them: Valenciennes, of course (0 matches), but also Lorient (2 matches), Nancy (1 match), Troyes (4 matches) and Monaco (10 matches and four different goalkeepers in Warmuz, Roma, Sylva and Porato). However he has scored against Porato, Sylva and Warmuz when they were with Lille, Lens and Ajaccio, respectively.

Yet Ramé and Bordeaux have held against Juninho. Other Ligue 1 goalkeepers as well, such as Landreau, Le Crom, Carrasso, Lloris, Bracigliano, Douchez, Pouplin, Stojkovic, Pelé and Audard. The Brazilian should be in the starting line-up on Sunday having scored just once in his Lyon career after coming off the bench: October 20, 2001 at the Stade Gerland against Sochaux in the league where he equalised in the 82nd minute after being introduced 30 minutes earlier. Let's hope he finally beats Ramé and his Bordeaux hoodoo this Sunday.