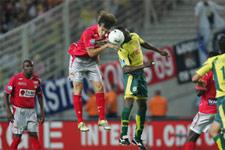 In their first home game of the season, OL share the points with Toulouse, 1-1. Here are the vital statistics for the Lyonnais from this encounter... and their cumulative effect
Claudio Cacapa's team-mates took 28 shots on the Toulouse goal, nine of them in the first half. Nine shots were on target, five saved and 14 wide. 17 shots were from outside the penalty area and 11 from inside, including one goal scored with the left foot from a corner. Malouda 5 shots, Benzema 5, Toulalan 4, Juninho 4, Carew 3, Fred 3, Diarra 2, Källström 1, Cacapa 1.

The visitors made 17 attempts on Coupet's goal; six of those in the first half. Three shots were on target, seven wide, and one blocked. Eight were taken from outside the area, and nine from inside, one of those a goal resulting from a cross from the left wing.

Grégory Coupet made six decisive saves.

OL won 8 corners; Toulouse 3.

OL were awarded 24 free kicks to TFC's 15. The offside whistle sounded once for OL, and not at all for their opponents.

In terms of possession of the ball, OL ended the game with 27 minutes 13 seconds (13'58'' at half time), and TFC with 17 minutes 52 seconds (9'37'' at the half way mark).

1 yellow card: Cacapa

Cumulative statistics after two matches:

43 shots for OL, of which 15 on target, 9 saved and 19 wide. Carew 10, Benzema 7 including one goal, Toulalan 5, Malouda 5 (one goal), Fred 5 (one goal), Juninho 4, Källström 3... 4 goals scored(3 with the left foot or the head; 2 from corners and 2 from crosses, one from the left and one from the right; all 4 goals from within the penalty area).
Opposition shots: 29, 10 on target, 2 saved, 17 wide. 2 goals (one free kick and one from a cross from the left wing following a defensive error; one goal from outside the penalty area).

42 free kicks for OL and 37 for their opponents.

3 yellow cards: Cacapa, Berthod, Källström.

Réveillère, Cacapa, Squillaci, Berthod, Toulalan, Diarra and Benzema have all played the full 180 minutes of play so far.