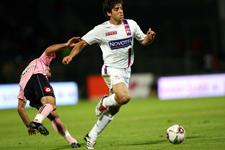 Post-match reactions: Olympique Lyonnais vs. TFC
Jean-Michel Aulas: this was like any other home game at the beginning of a new season. We were up against a well-deployed team who put a lot into defence. In the second half, we were caught on the break too often, and we ended up conceding a goal in added time, something that doesn't happen to us often.
Perhaps it's actually not such a bad thing, because everyone's already expecting us to run away with the championship. But we have to actually play and win the matches. This is going to be an extremely tough season. This draw is a wake-up call for us, and should make us stop and think.
As for new signings, we've already done a lot with the three new arrivals. Afterwards, we were looking for a replacement for Sidney (Gouvou), if he were to leave. Franck Ribéry was someone we considered, but he wasn't the only one. The media circus around the "Affaire Ribéry" was perhaps fuelled by OM.
Franck Ribéry didn't end up coming, but then, Sidney didn't leave either. So in fact, we're back where we were a few days ago. We have to remember that we've also got some excellent young players available. From the beginning, we've been very satisfied with Loïc Rémy, and Hatem (Ben Afra) is a very good player. But there's no use in acquiring players for the sake of it.
Regarding Mahamadou Diarra, we haven't had an offer from Madrid. They even sent us a letter to confirm, on behalf of the management of the club, that they were not interested. The situation is very clear. There was some contact with another club, but they decided not to pursue it.
Camoranesi is one of the players we have our eye on, and who is perhaps interested in coming to OL. Then we have to see if the trainers have a place for him in their squad.
My support for Greg (Coupet) during the World Cup, that was the least I could do. He's one of our guiding lights here at OL. He's one of the symbols of this club. We couldn't not support him when he needs it.

Jérémy Toulalan: It's a shame. We concede a goal five minutes from the end. It's infuriating, because we had such a struggle to break the deadlock.
Maybe it's down to fatigue. We didn't manage to stay concentrated. We made a mistake that we'll have to avoid in the future. They played in really tight formation, and it was hard to to dislodge them. It'll be like that all year. It's down to us to just play better.

Robert Duverne: We invested a lot of energy tonight, without actually getting the return on it. We focussed our game too much on effort, and not enough on the team collectively dominating possession. Overall, Toulouse did what they set out to do, even if it was barely, and though we should perhaps have come out on top.

Juninho: We almost closed the deal. At the very end of the match, we conceded a poor goal which cost us two points. Toulouse played a good match. The result was a fair representation. Just like we win matches as a team, we also lose as a team. It just goes to show that the championship is very tough, very balanced. Everyone wants to beat us. From September on, we should be back at the top of our game.

Florent Malouda: I took a bad knock during the game. We'll have to wait and see how serious it is once the results of the medical come back. Right now, I have to concentrate on recuperating, and we'll see if I'm cleared to play for the next match.
They scored on us at the end of the game, it's a real pity, given that there was so little time left. We'll have to make up for the points we lost in our next away game against Bordeaux. The whole team is going to to react to this.

Dr Amprino: Regarding Hatem Ben Arfa, he just took a bit of a knock. There's no fracture, and he should get over it within a few hours.