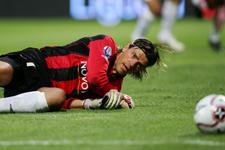 Supplanted by Rémy Vercoutre during the Champions League and against Nantes for the season's opening game, Gregory Coupet got back into the swing of things after three months, give or take a day, out of the action.
His last home match was on the 13 May 2006, against Le Mans.
There's talk of habits, and traditions, rather than "superstitions". It's all part of his "concentration", and his "comfort", according to what he told OLWEB.fr. Always the same ritual, nothing elaborate, short, focussed. Always the same gestures, the same reflexes, to each situation, for each match...
Often – if not always – first on the pitch, he starts his warm-up with Bats and Hartock, Vercoutre being unavailable due to a slight strain.

First some practice shots from "Jo" and Yohann; saving high balls and ground shots; throwing the ball back, then kicking it out; then some stretching before a little magic moment, shared just between him and Joël. Flat on his back on the grass, he clears his mind, focussing on the last words of advice from his coach. The crowd, his team-mates, the opposition, all fade out for these few moments of Zen for him and his mentor.
It's a full regime, not just a warm-up, this pre-match ritual, before having the first turn with the physio, Abdel Redissi… as usual.

The longest-serving veteran currently playing in Ligue 1 is taking on his 397th match and letting his voice be heard. You can hear him from the stands giving captain Claudio advice on how to put Douchez under pressure, and chivvying his team-mates to pick up and mark loose opposition forwards. His first touch of the ball put into effect the same excercises he'd been running through a short time earlier on Jo's advice. His leap to bring the ball safely to ground confirmed that he was staying sharp at the 18 minute mark. Ten minutes later, Battles' shot from 25 metres wasn't enough to trouble him, its trajectory taking it into the stands at the South End.
A stretch of play that stayed far from his goalmouth followed, boredom alleviated by a few sprints up and down the goal line. Greg was first truly called upon with half an hour played, when he went full-stretch to make sure that Ebondo's shot was put safely wide. The danger was ratcheted up a notch with Elmander's free kick, which "Greg" gathered safely into his arms. Quick on his feet, he made a decisive stop, parrying Fabinho's shot with both fists, and keeping his clean sheet up to the end of the first half.

After the match restarted, he went down to stop Emana; the opposition midfielder, put off his run by the Lyon number 1, put his attempt wide (50min). Neither Mansaré nor Fabio could find a chink in his defence that could be exploited. The former failed to trouble Coupet, with two shots going wide (56min and 70min), and the latter found his opponent to be as at ease horizontal as vertical, as Coupet went full-stretch to stop his lob from the penalty spot (68min). TFC didn't let up, and managed to scrape a point before the final whistle. In the dying seconds of stoppage time, Elmander found Fabinho who equalised from the far post after losing his marker (93min).

Annoyed and certainly disappointed at the final whistle from referee Monsieur Malige, "Greg" nevertheless saluted the crowd's support, as usual. He received the pink strip belonging to his friend "Bry" Bergougnoux, exchanging his own with Douchez, and sought out Revault, opposition keeper, for a friendly thump... As usual!