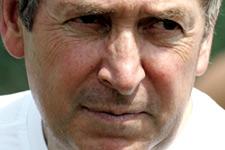 Not all the internationals will be back in action against TFC, Gérard Houllier has decided. A group of 19 players...
The Squad :
Coupet, Hartock – Réveillère, Clerc, Cacapa, Cris, Squillaci, Berthod, Diarra, Toulalan, Källström, Pedretti, Juninho, Ben Arfa, Benzema, Fred, Carew, Malouda, Tiago.

Gérard, a word about the squad ?
"Grégory Coupet will play against TFC; he was great in the match against UNFP. Besides, Rémy Vercoutre is hurt. As for the rest, there are still certain things missing for most of those who started on Wednesday. And that's to be expected. The match showed that they weren't ready yet. Thankfully, there's the international next week. Some will be playing, and the others can train. Fred? He was treated during the week, but I don't know how it's going to go".

What do you think about going up against Toulouse ?
"It's going to be very, very tough. At the start of the season, you have to roll up your sleeves; fight against complacency. We have to get on track for the rest of the season. and I'm not fogetting the difficulties we had last season at Stade Gerland against Nancy and Strasbourg. And then Toulouse lost 2-0 in Bordeaux. I was at the match, and Toulouse only conceded goals from dead-ball situations. There should be no question of underestimating the team and thinking it'll be easy. The games with PSG and Nantes will help us"

How do you feel about your team, at the start of this new season?
"I feel like we have more maturity, more experience than last season, not to mention what the new recruits are going to bring to the team. We're not looking to be top of the table from start to finish of the championship. The only ambition is to be ahead on the evening of the 38th day. To come back to the TFC match, it'll also be our chance to secure our lead over Bordeaux. We can't forget that we have two potentially very tricky away games coming up."

Ribéry, Diarra?
"I'm getting ready for a match against Toulouse. Diarra? You're not going to replace a player like that in three weeks. You tell me that in Spain they're talking about Alou Diarra as a replacement for Djila. Why don't Real Madrid just take the Lens player? It's cheaper, and also, he's bigger."