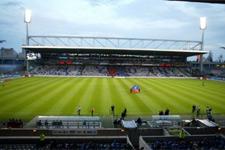 As in each of OL's championship-winning years, they play at home on this second day of Ligue 1 action, after kicking off the season away. An encouraging trend!
Five time champions of France, and looking for a sixth, OL will play at home for their second match of the season, just as they did in their five previous winning seasons. In 2001-2002, Coupet's team lost in Lens 2-0, having beaten Sedan at Stade Gerland 2-0 (with goals from Anderson and Laigle); in 2002-2003, a 3-3 draw at Guingcamp was followed by a 6-1 extravaganza against Sedan (Anderson and Juninho both with two goals, and one each from Cacapa and Luyindula); in 2003-2004, after a 1-0 defeat in Lille, the Lyonnais went on to beat Monaco 3-1 (two from CSC, one from Essien); in 2004-2005, a 1-0 victory against Nice preceded a 1-1 draw with Sochaux (Juninho's goal); finally, in 2005-2006, 2-1 winners at Le Mans, followed with a 1-0 success against Strasbourg (Carew).

So only Sochaux managed the feat of denying the Olympians their three points in their first home match in the seasons when they went all the way. Not forgetting that in 2005-2006, the Lyonnais were only held to a draw four times (Auxerre, Lens, Bordeaux and Toulouse) and conceded two defeats (Rennes and Lille) in league games on their home pitch… or 14 points out of the possible 57 at stake.