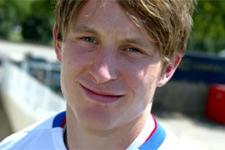 Kim Källström talks to us about his Swedish compatriot and friend, Johan Elmander.
An up and coming member of the Toulouse team is a player you know well: Johan Elmander…
Absolutely. He's one of my best friends off the pitch. It's great to see him in France.

Had you spoken to him about France before he arrived? As soon as he heard that Toulouse might be interested, he asked me to tell him a few things about France, and about our championship. I only told him positive things, but of course his coming here was completely his own choice.

Tell us a bit about him…
He's a very good footballer, with an excellent head for the game. He's a big, powerful guy, but he's got pace, and works very hard, for a forward. He's also very dangerous getting deep into the heart of the opposition's defence.

Do you have any advice to give your defenders?
No, that won't be necessary. My team-mates are perfectly capable of managing without my advice. We have a strong enough defense to contain him. I know he won't get the opportunity to score.

You'll see him on Wednesday with the Swedish national team…
Yeah. I'll try to feed him a few good balls… but not before Wednesday.