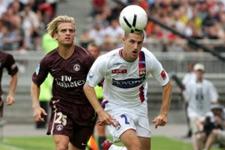 "I know. Just like before every OL – Toulouse match…" On the eve of TFC's arrival at Gerland Stadium, François Clerc is very conscious of being the object of scrutiny, after spending the 2004/2005 season playing his football on the banks of the Garonne.
It seems a long time since the Olympique Lyonnais right-winger returned to his place between the Rhône and the Saône after being on loan to Toulouse, with seven appearances in the TFC strip. He doesn't bear any grudges about the period. "It's forgotten. The bitterness was maybe still there last year, but this season I'm over it. I've completely moved on. I'm more interested in looking forward than looking back. I'm just happy to be back with the people I know, particularly Bryan Bergougnoux, who's always been someone I got on well with". Having been through the OL training programme together, the two players made close links that have endured despite the distance. " We're very good friends, says François Clerc, "We've often been on holiday together. We phone each other often, but we prefer not to tease each other too much… you never know what could happen."

There's no question of missing this first championship encounter at Gerland. "We owe it to ourselves to win straight away at home, to get the season off to a perfect start. If we manage to get the three points, we'll be in a very good place mentally for our two very difficult away games, including the one in Bordeaux which could be crucial for the title. That's why we want to make an impact straight away with six points in two days".
Whatever about the actual position occupied by the Toulousains, the OL right-winger isn't unaware of the difficulty of the task that awaits Gérard Houllier's team. "We know that it won't be easy. This Toulouse team is coming off a defeat in Bordeaux, so they'd obviously like to react by getting at least a point out of this game". Conscious that Olympique Lyonnais, widely considered the favourite to take the Ligue 1 title, will have a lot of expectation riding on them, he warn that "every match is going to be difficult, because all the other teams want to bring us down There won't be any easy matches".

[IMG40022#R]In order to prepare as well as possible for the encounter with "Téfécé", he joined the other internationals and players who didn't play very much against Nantes yesterday, in a friendly against UNFP. "It allowed us to get back into the swing of things, and work hard physically". A 1-0 victory to which he can add another piece of good news: his second call up to the national side. "It's great news" he says, before adding "The hardest thing is staying there". Having already been in the squad for the match against Slovakia on the 1st March 2006, he hasn't had the chance to celebrate his first international cap. For this second time representing his country, his enthusiasm is palpable. "If I play, I'll do my best to show what I'm capable of.

It's a goal that would have seemed unrealistic a year ago, on his return from Toulouse in Summer 2005. "When I think about where I was a year ago, I say to myself that the hard work has paid off. I never let go, and I always believed in myself despite some difficult times".

If on the 16th August, François Clerc will be marking his second selection to the squad, he still holds onto the seriousness and lucidity which have allowed him to effect this rapid rise: "Things have moved so quickly in a year that you really just say "Wow". It's fantastic, but what I really hope is that I won't stop there. That I'll go a lot further".