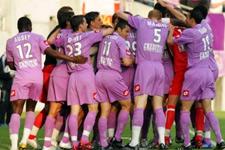 TFC started their season on the wrong foot with a 2-0 defeat in Bordeaux. Both goals resulted from dead ball situations. Douchez and his team-mates will give their new pink strip another airing on the pitch at Gerland this Saturday.
With a corner from Francia headed in, and a long free kick from Ramé knocked in left-footed, Toulouse bowed to Bordeaux's pressure in the second half. With Arribagé and Santos both out injured, TFC has had even further reaching personnel change over the summer. Bedimo, Cardy, Giresse, Moreira, Psaume, Lièvre have left for pastures new; Eric Mombaerts has had his place on the bench taken by Elie Baup; Swedish forward Elmander and Brazilian midfielder Fabinho were drafted in to shore up the sagging team last season, without being able to push them any higher than their eventual position, a mediocre 16th. (41 points, 10 wins, 11 draws, 17 losses, 36 goals scored, and 47 conceded. Moreira 10 goals, Santos 5…). Since their return to Ligue 1, Sadran's club has finished 16th (2003-2004), and 13th (2004-2005).

Founded in 1970, TFC has yet to chalk up a win at the Stade Gerland, in 12 L1 clashes: nine defeats and three draws, including last season's 1-1 result; Moreira opening the scoring, Carew getting the equaliser. In pre-TFC days, Toulouse's D1 club travelled to Gerland 13 times, notching up five wins, four draws, and four defeats.

What will TFC be hoping for from the new season ? "The middle of the table would be a satisfactory end-point" according to the president before the season kicked off. One thing is certain: the "Ville Rose" club has embarked on a new adventure with Elie Baup on the bench.