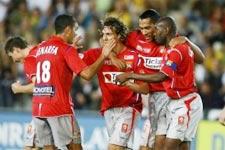 Sébastien Squillaci played his first Ligue 1 match with OL last Sunday against Nantes. A 3-1 victory, and his 11th goal in the French championship.
Playing his 118th Ligue 1 game in Nantes, "Toto" also put away his 11th goal. Having started off on a high at Troyes on the third of August 2002 (Monaco winning 4-0), Squillaci tends to bring good luck with his goals. Each time he has found the back of the opposition's net, his team has won the match (eight times), or drawn (three times). Looking back...

In 2002-2003 : Monaco 3 Sedan 0 (1 goal) and Monaco 1 Lens 1.

In 2003-2004 : Monaco 1 Metz 0, Monaco 1 PSG 1, Monaco 4 Le Mans 1, OM 1 Monaco 2 and PSG 2 Monaco 4.

In 2004-2005 : Monaco 2 Lille 0 and Bordeaux 1 Monaco 1.

In 2005-2006 : Strasbourg 1 Monaco 2

In 2006-2007 : Nantes 1 OL 3

He also scored at Gerland stadium, but put the ball in his own net when OL beat Monaco 3-1 (2003-2004).

Having had Givet, Rodriguez, and Modesto as his partners in Monaco's central defense … he was linked for the first time in L1 with Claudio Cacapa.

Among the central defenders in L1, the Toulousan Arribagé has scored 18 goals in 326 matches; Gillet of Lens has tallied 13 in 199 games and Parisian Samy Traoré has 11 from his 112 matches...