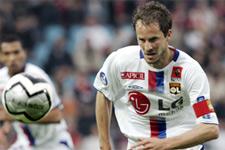 Patrick Müller on this morning's training session. He discusses his desire to play, and mentions the departure of his former partner in defence, Lamine Diatta, as well as the competitive element he considers an essential part of football.
A quick word about this morning's session: focussed on physical workout without much contact with the ball.
It's often like that. A good speed-training session, centred around running. Afterwards, we had a little kick-about exercise with the ball, just for fun.

How are the internationals doing? You're playing a friendly tomorrow. Are things coming back into focus?
I hope so! Whatever happens, we have to play. Even if tomorrow it's just a friendly, it'll do us good. When I went up against PSG in the Champions League, or in the friendly against Salonica, it was hard. Quite a while has gone past since then, and I hope I'm finally ready to play.

Are you impatient to get back into real competition?
Yes. We're going to play a friendly tomorrow, and then a championship match this weekend. Next week, it'll be the national team. I really hope to be able to play in those three fixtures.

Lamine Diatta is leaving you. Any thoughts on his departure?
When a player leaves a club, it's always sad. We have a large squad, so there may well be others leaving, but new arrivals as well. I say good luck to him. In any case, I'd be delighted to see him again, no doubt about that.

It's said that he was an entertainer in the dressing-room…
I've only known him for six months, but we got to know each other well in Saint-Tropez. It's true that the dressing-room will be losing one of its entertainers.

Could you say that it makes one less competitor in defence for you?
No, I look at it much more from the human point of view before seeing him as a competitor. Competition exists, naturally. It's part of the game.

How does it affect you? Among the defenders it's probably never been as fierce as it is this season.
Of course it's very difficult, but those are the rules of the game. If I'm called on, I have to be ready. That's why I'm working hard in training: to bring something to the team whenever I get the opportunity.