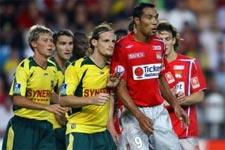 After just one match this season, the ladder is almost identical to that of the final day of last season: PSG already struggling, Le Mans continuing where they left off last season, and OL already in top spot...
OL top dogs
Sitting pretty atop the standings, OL is already comfortably installed in the No.1 position thanks to their comprehensive 3-1 at the Stade de la Beaujoire. It was all the more precious a victory considering the Olympians' three away games in the opening four weeks (Nantes, Bordeaux, Nice). For Act 2 of the season, Gérard Houllier's side host Toulouse football club at 20:00, Saturday August 12.

Bordeaux and Lille in form
Like last season, the quintuple champions of France are one place ahead of Bordeaux, who style of play is terribly efficient, if far from spectacular. The Bordeaux squad has remained largely unchanged over the off-season and could benefit from the return of Johan Micoud to France, arriving from Werder Bremen.
With three qualifications for the Champions League in the last four seasons, Lille are looking just as dangerous as last season. Away to Rennes, Claude Puel's side made a winning start, 2-1.
Both teams are already looming as potential podium finishers.

The 'promos' fight back
Sedan and Valenciennes made perfect starts to their return to top flight football with draws against quality opposition, 0-0 v Marseille and 1-1 v Auxerre respectively. Even more impressive however, was FC Lorient's victory over Paris-SG at the Parc des Princes 3-2, thanks to a Fabrice Fiorèse double.

PSG and Monaco already asking questions?
Despite an encouraging performance in the Trophée des Champions, the Parisians were unable to make their first half dominance count and were stunned in the second period, losing to Lorient 3-2. Pierre-Alain Frau had a great game, opening the scoring and then hitting the cross bar with an almost-perfect lob. Defeat in next week's trip to Valencienne could well plunge the club into one of its traditional crisis.
The same doubts were raised at Monaco. Despite a promising off-season recruitment, Laszlo Bölöni's side went down to Nancy by a single goal, thanks to Moncef Zerka's second half strike.

Sochaux, Le Mans and Lens start well
After a difficult 2005/06, Sochaux made a perfect start to the new campaign with victory over Saint-Etienne. Two goals to recruits Jérôme Leroy and Karim Ziani, saw the 'Doubistes' come from behind to win 2-1.
Le Mans defeated Nice and Lens accounted for Troyes both by 1-0. Surprise team from last season, Le Mans got the three points to start their season thanks to Grafite's goal. At the Stade Félix Bollaert, Lens warmed up for next week's Northern Derby against Lille with a solid, if not flawless win.