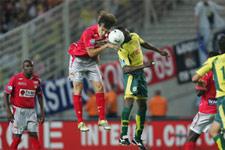 For the opening match of their fifth consecutive title defence, Lyon comfortably accounted for Nante, 3-1 on Friday. Now check out all the stats...
Claudio Cacapa and Co shot 15 times at Nantes' goal, including ten in the first half. 6 shots were on target, 4 blocked and 5 off-target. 6 shots came from outside the penalty area, 9 from inside including all three goals (1 header from a corner, 2 left foot strikes, one from a cross from the left and one from a cross from the right. Carew 7 shots, Benzema 2, Fred 2, Kallström 1, Toulalan 1, Clerc 1 and Squillaci 1. The assists were given by Carew, Cacapa and Kallström.

Nantes shot 12 times at Vercoutre's goal; 7 times in the first half. 5 on target, 6 off-target and 1 blocked. 7 shots came from outside the area, including I goal from a free-kick and 5 shots came from inside the area.

Rémy Vercoutre made 10 saves including 2 decisive interventions. 5 saves in each half.

OL obtained 2 corners; Nantes 7.

OL received 18 free-kicks compared to 22 for Nantes. Lyon were caught offside 5 times, Nantes 4.

In terms of ball possession, OL finished with 26 minutes and 13 secondes (13:35 at half time) and Nantes 23 minutes and 15 secondes (14:01 at half time).

2 yellow cards: Berthod and Kallström.