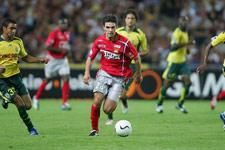 Check out all the reactions to OL's opening round victory away to Nantes.
Gérard Houllier: First of all, I'd like to say, in all honesty, that tonight we defeated a very, very good Nantes side. After a superb first half, we took our chances in the second which turned the game in our favour. We made the most of the chances we created.
The players that came on during the match played a big part in this victory.

Sébastien Squillaci: It wasn't easy but we got the win in the end. It's a good way to start the league.
After the start in which Nantes were really determined and motivated and pushed us to the limit, we held them at bay and then won it in the second half.
After their goal, we didn't have time to get upset because we equalised immediately.

Karim Benzema: It's a great thrill to score, but above all, I'm happy for the team. The equaliser really lifted the team. That's when we started playing our normal football and playing well.

Jérémy Toulalan: We started poorly but then we made up for that bad start. We were able to score at the perfect moment in the second half and then run away with it.
On a personal level, it wasn't too hard because I got a great welcome from the Nantes fans. At the start I was a bit nervous but once I got on the field, I was totally focused on the job I had to do.

Jean-Michel Aulas: It's a great satisfaction. Bravo to Gérard. He has prepared this side perfectly and knew how to get the best out of them to defeat a very good Nantes side. Tonight was a great performance. We went behind early but equalised immediately and then took flight in the second period. We created a lot of chances. Kim Källström and John Carew could both have scored. Today we saw the team play into space beautifully. It really was a great game. We we're lucky enough to have a squad of such talent, that's when the coaching staff make the difference. That's what saw us run away with it in the second half against a good Nantes team. Jérémy Toulalan had a great game. He is very strong, but he also passes and reads the game well. With him, Kim Källström and Sébastien Squillaci, we have three new players that really perfectly complete this squad.

I was surprised by Frank Ribéry's declarations on the TV because recently I heard comments to the contrary. We'll be watching very closely because right from the start we informed Marseille that we were interested in Franck. The coaching staff made him the priority because he's an exceptional player. Before the World Cup we had outlined him as a player of huge potential. Today he says he doesn't want to stay. We can say that OL are a candidate to recruit him, and Lyon will discuss in a correct, polite and logical manner with the owners of his contract: Olympique de Marseille.

First of all, I'm very happy to have heard the words come out of his mouth because I've seen a lot of things attributed to him that he didn't say. At any rate, it's good if Franck wants to join a club playing in the Champions League. Lyon is playing the Champions League and wants to win it, so why not? But all that will have to pass by OM.
I often talked with Pape Diouf when he was a players' agent and he always told me that when a player wants to change clubs, he always has the last word. So I hope Pape wasn't mistaken. All the same, I'm staying open minded.