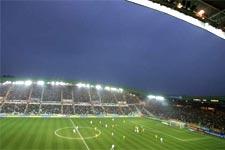 Several Ligue 1 clubs have been forced to change stadiums (Sedan, Monaco…) due to an unavoidable need to renovate and modernise. Nantes is one such team who, in 1984, quit the old Stade Marcel Saupin for La Beaujoire…
Supporters of the France certainly won't have forgotten the Euro '84 clash against Belgium. "Platoche" scored a hat-trick as France ran out 5-0 winners. Joël Bats and Bernard Lacombe took part in this monumental game on June 16. 51 359 spectators witnessed the match at the ground. With the hosting of the 1998 World Cup, the stadium passed from a 52,923 capacity to 38,285 – all seater.

OL first played at this stadium in the 1990-91 season. The result? 0-0. Since then, les Lyonnais have played another 15 league matches (3 wins, 4 draws and 8 defeats). In the Canaris former ground, the Olympians had played 21 Ligue 1 games (2 wins, 2 draws and 17 defeats). Lyon's last three wins have all ended 1-0 (2000-01, 2003-04, 2005-06. And each time the goalscorer was a Brazilian: Anderson, Juninho and Fred.

The last time the two sides met at the Beaujoire was on October 25, 2005 for the last 32 of the Coupe de la Ligue. Nantes went through on penalties after the game finished 1-1. And of course no-one has forgotten the 2-2 draw in the 2004-05 season (Frau x2) and the sadness that accompanied the 90 minutes of football after the tragic road accident which claimed the lives of two Lyon fans, on their way to the match: Mathias and Jean-Yves.