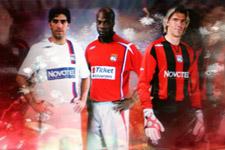 30 professional players comprise Lyon's squad - at the moment - for the new season.From the youngest, Karim Benzema to the oldest, Grégory Coupet… we take a closer look at the quintuple champions of France.
Grégory Coupet is at once the oldest member of the squad, 34 on December 31, but also the most experienced in L1 with 396 games under his belt. In terms of matches played, he comfortably leads Sylvain Wiltord (256 L1 matches, but 362 if you count his time at Arsenal), Réveillère 224, Diatta 199, Malouda 195, Govou 187, Juninho 156, Pedretti 153, Müller 143, Abidal 127, Diarra and Cacapa 119, Squillaci 117, Toulalan 94, Källström 83, Cris 69, Berthod 65, Fred 31, Tiago 29, Vercoutre 28, Carew 26, Clerc 22, Ben Arfa 21, Benzema 19. Riou, Hartock, Bettiol, Benhamida, Hima and Idangar are still at 0.

If Coupet is the oldest, Benzema (19 years old next December 19) is the youngest ahead of Riou (19), Ben Arfa (19), Hartock (19), Bettiol (20), Benhamida (20)… Just behind Greg come Wiltord (32), Juninho (31), Diatta (31), Cacapa (30)…

In terms of goalscorers, the gong goes to Sylvain Wiltord with 84 L1 goals, ahead of Juninho 50, Govou 38, Malouda 30, Källström 20, Fred 14, Squillaci and Pedretti 10, Diatta 9, Carew 8, Diarra 7, Cris 6, Cacapa and Tiago 5, Réveillère and Müller 3, Benzema, Toulalan and Berthod 1. Juninho, Govou, Fred, Carew, Diarra, Cris, Cacapa, Tiago, Müller, Benzema and Berthod have scored all their goals in Ligue 1 with Lyon.

Müller (Spain), Réveillère (Spain), Diarra (Greece, Holland), Tiago (England), Wiltord (England) and Carew (Spain, Italy, Turkey) have played, in foreign leagues other their own national league before joining OL.

18 of the current crop of 30 are, or have been internationals at full senior level. Sylvain Wiltord is the most capped of the lot.

Certain players have been crowned champions of other leagues before joining OL: Carew (in Norway and Spain); Wiltord (England) ; Tiago (England) ; Müller (Switerland) ; Cris and Juninho (Brazil). Wiltord is the only player to have been champions of France with a club other than OL (Bordeaux in 1998).