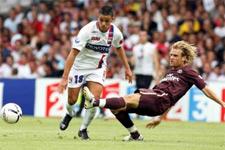 Check out all the reactions to Lyon's penalty shootout win over Paris Saint-Gemain in Sunday's Trophée des Champions…
Jérémy Toulalan: It was important to win to start the season. The coach had reminded us you have to win any way you can and that's what we did. I came here to win trophies so it's great that we won.

Rémy Vercoutre: I was a little bit worried because Mick is a penalty specialist and last year I didn't have a great experience in the Coupe de la Ligue against Nantes. I got better and better as the match went on. It hard because the Trophée des Champions is a particular match. All that counted tonight was the victory.
On Kalou's penalty save, I was relieved because with [goalkeeping coach] Joël Bats, I've we've been working on penalties for a long time; ever since the match against Nantes last season. If all the 'keepers at this club are still improving there's a very good reason for it and he doesn't just work with the 'keepers, Jo is the heart and soul of this club.

Pierre-Alain Frau: I'm a little bit disappointed because we were leading. To lose on penalties is always a bit weird. It was the final dress rehearsal before the start of the season. We did what we set out to do, we upset them and didn't let them play. On a personal level, everything's starting to fall into place, I still lack a bit of cohesion with my teammates but that will come.
It was a special match for me, but it's always a pleasure when I return to the Stade Gerland.

Rémi Garde: We're delighted. First of all, because it's a trophy. It's a great way to start the season. We've now played the toughest match of our pre-season.
For the moment, we still have two groups at training, but everyone is focused on the match against Nantes which will be extremely important.
What I really appreciated was the way in which we fought back when we were down. We were able to dig deep and play the second half in their half of the field.
The youngsters have had a great preparation for the season and I'm very happy with how much they've put in.

Claudio Caçapa: Number five! It was important to start the season well. It really gives you motivation to go out and win more trophies. PSG has a very good team this season and it wasreally important for us to do well. Now we've already turned our heads towards the Nantes match. Physically the side is getting better and better.

Robert Duverne: The team played well and showed a lot of quality, particularly collectively. We really saw a 'team' develop during the match and we'll build on that before the Nantes match.
The squad is really starting to look impressive. This week, we'll prepare the next match while also working on fine tuning the players that need it.

Loïc Rémy: It's the first line on my CV – the Trophée des Champions. Last summer I was a long way off imagining anything like this.