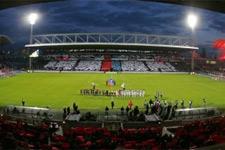 OL have developed a winning habit since 2002 when they began starting their Ligue 1 season with a win in the Trophée des Champions. A first win of the season that set the side on to many more… so why change now?
"Starting with a win in the Trophée is obviously good for the confidence." Sébastien Squillaci, one of three new recruits, sums up the importance of Sunday's match against PSG. You don't hear the Lyon camp talking up incredible pre-season friendly matches or Intertoto Cup games as, with malice, Guy Lacombe, the PSG coach, might. Obviously it's better to be wining games at the business end of the season, but in football, an official match is always there to be won.

After considerably different preparation campaigns within the two squads, due to World Cup commitments and the coaching staff, this Sunday provides an even playing field to compare the two sides. Against second-tier sides in pre-season friendlies, OL has comfortably shown their class. PSG have shined less, but without themselves taking on any big guns. OL, with three new players and without nine of their World Cup stars take on a PSG side depried of only Pauleta and Dhorasoo. Landreau should play. As for the new faces: apart from the former Nantes' 'keeper, Traoré, Baning, Diané and Hellebuyck are all available. Without forgetting Pierre-Alain Frau. PAF has joined the capital outfit to score goals alongside Pauleta. He has already won two Trophées des Champions in a little over one season with OL and would surely like to add a third.

Apart from a handful of departures: Letizi, Landrin and Bueno the PSG squad has hardly been weakened. As for M'Bami and Pichot, they don't appear to fit into the coach's plans. Will PSG rediscover their past glories? As with every new season, the ambition is always present. The 2005-2006season was a little chaotic: change of coach (Fournier replaced by Lacombe); change of owners; change of president; average results – ninth in the league, just as the season before. The victory in the Coupe de France over OM saved their season. During the five championship wins of Lyon, PSG has changed more than once (four coaches, four presidents, not to mention the players). A lack of stability could explain their lack of success. Lets hope for the good of the club, that that changes soon.

OL will line up with a temporary squad on Sunday. Juninho, Coupet, Wiltord, Cris, Fred, Malouda, Tiago, Abidal and Govou are all absent. Is there need for concern? During the 2005 Trophée des Champions, Wiltord, Réveillère, Essien, Diarra, Malouda and Cris didn't play against Auxerre. Tiago and Fred hadn't even signed on. The new players are hyper motivated and so are the young stars of the future such as Ben Arfa and Benzema. The squad wants to start the new season with a win in the Trophée, with or without penalties as was the case in 2004… against PSG.